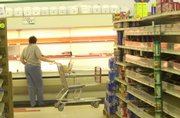 The phone rang steadily Monday morning at Morses' Market, and the question on the minds of most callers was, "Are you open?"
The short answer Monday was yes, but a more complete answer would follow: "Not for much longer."
Store owners Marge and Ted Morse and their son, Jeff, ran De Soto's only grocery store this week with a skeleton crew of two evening employees. The other 20 employees were laid off last week, in anticipation of the store closing on Thursday.
It's a sad end that the Morses didn't anticipate when they bought the market a second time in 2003. The family store did $87,000 a week in business when they sold it in 1997, Ted said. A decade later in a town with what Ted estimates has 500 more homes, the store's weekly business is about $30,000 less.
For the Morses, that figure suggests something about people who have moved to De Soto professing they were looking for an alternative to Johnson County suburban living and voicing an oft-repeated phase, "We don't want to live in another Lenexa."
"In some respects they do," Ted said. "The new people who moved out here, they want everything they had in Lenexa and Overland Park."
"This store just isn't good enough for the new people moving to De Soto."
Their best customers, those who came to the store weekly to fill up carts, were older De Soto families, Ted said.
As if to prove Ted's point, a member of one of those families, Karen McDaniel, made perhaps her last trip to the store Monday to fill five bags with groceries from its emptying shelves.
"This was my spot," she said. "I don't like grocery shopping anyway. I like to go and be done with it. I hate to see this place go."
The store's closing is what happens when people don't support local businesses, McDaniel said. As much as it will inconvenience her, she said the closing will be hardest on the elderly and residents without transportation who will have to get groceries from Shawnee, Lenexa, Olathe or Eudora.
De Soto Multi-Service Center manager Jodi Hitchcock said the store's closing could create more demand for bus programs.
"For some people, it is going to create a tremendous difficulty," she said of the closing. "Some people with limited transportation deal with the comfort level of getting out on the highway. Others have no transportation.
"It's just going to leave a big hole in the community."
Richard Isaacs, one of two remaining store employees, said the community needs a grocery store.
"I talk to people in the community," he said, "and most of them think someone's going to swoop down and take that store over. It's not going to happen."
Eating lunch Tuesday at the De Soto Senior Center, Wayne Loglisci said the closing would change his shopping patterns. A homebound resident of the Clearview City Apartments south of De Soto, Loglisci depends on FlexRide for his two-day-a-week rides to the senior center and a home health professional to purchase his groceries.
The closest store to his apartment is in Eudora, but Loglisci said his home health provider refused to shop there because that would provide tax dollars in Douglas rather than Johnson County. Now, he said more of his tax dollars would be leaving De Soto.
The city will see a significant loss in sales tax revenue with the store's closing. At De Soto's local 1.75-cent sales tax rate, the city would stand to collect about $51,000 annually from the store.
That's just another reason people should heed the call to shop locally, said De Soto Chamber of Commerce executive director Sara Ritter. In a bedroom community like De Soto where so many residents work in neighboring communities, that can be a hard sell, she said.
"That's one thing we're all guilty of, and that's going out of the community to shop," she said. "This community is historically commuters. We're used to shopping elsewhere for basic needs."
The Morses understood the draw of large chain supermarkets when they repurchased the store four years ago, Ted said. To make the De Soto store more competitive, they spent considerable time cleaning it up and invested $80,000 to computerize checkout lanes, he said. They also spent $50,000 to install a deli - a move that proved unsuccessful.
But the facelift and upgrades didn't change the shopping patterns of De Soto residents. Ted said a loss study last year found the store captured 25 percent of the De Soto market. It needed 45 percent to survive, he said.
Those leaving town never experienced, and perhaps never needed, the type of personal service the Morses provided. In between all the phone calls Monday asking if the store was still open, Marge took one from a weekend customer asking that the Morses hold a check she wrote until her Thursday payday.
"We get those all the time," she said. "It won't happen any longer. The big chains won't do that."
Copyright 2018 The Lawrence Journal-World. All rights reserved. This material may not be published, broadcast, rewritten or redistributed. We strive to uphold our values for every story published.