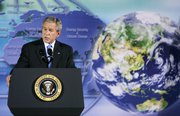 Washington — President Bush's call on Friday for a new fund to reduce global warming fell flat with Europeans and environmentalists who say U.N.-mandated cuts in greenhouse gases are what's needed.
To show he meant business, Bush designated his treasury secretary to talk to other nations about getting worldwide contributions to the fund. The money would pay for clean-energy projects in poor countries.
"This here was a great step for the Americans and a small step for mankind," Germany's environment minister, Sigmar Gabriel, said after Bush's speech at the State Department before representatives of the nations that are the world's biggest emitters of greenhouse gases. "In substance, we are still far apart."
In his speech, Bush acknowledged that climate change is real and that human activity is a factor.
"By setting this goal, we acknowledge there is a problem, and by setting this goal, we commit ourselves to doing something about it," he said. "We share a common responsibility: to reduce greenhouse gas emissions while keeping our economies growing."
The president's speech capped two days of talks at a White House-sponsored climate conference that brought together the U.S. and developing nations such as China, India and Brazil that are not required to make cuts under the Kyoto Protocol, the U.N. treaty for reducing greenhouse gases that expires in 2012.
Most of the talk behind closed doors focused on Japan's proposal that nations agree to cut global emissions by half of their current levels by 2050, said Bush's top environmental adviser, James Connaughton. A Japanese statement to other conference members called that proposal "a vision and not a legally binding target."
The conference included representatives of other major industrial nations such as Russia, Britain, France and Germany that have signed onto the Kyoto treaty that Bush rejected because he said it would harm the U.S. economy and did not require immediate cuts of countries like China and India. The treaty aimed to put the biggest burden on the richest nations that contributed the most carbon emissions.
Other participants came from Australia, Canada, Indonesia, Italy, Mexico, South Africa and South Korea, plus the European Union and the United Nations. Iran, another of the biggest emitters, notably was excluded.
"There was lots of talk about mandatory caps," said Yvo de Boer, the top U.N. climate official. "I don't think it would have been realistic to expect at this first meeting to expect any country to change its position."
He said he found Bush's speech "encouraging because it indicates that the U.S. wants to develop this discussion among the major economies, get into the substance, including on the question of goals and the type of regime that's appropriate, and then feed that into the larger U.N. process."
Bush said his purpose was to begin setting a new worldwide goal for cutting carbon dioxide emissions after 2012 and to help developing nations pay for the changes that would be needed. The president said the reduction goal should be finished by next summer, along with ways to measure progress toward it.
He said each nation should establish for itself what methods it will use to rein in the pollution problem without stunting economic growth.
But he refuses to sign onto mandatory emission-reduction obligations, preferring to encourage the development of new technologies and other voluntary measures, and won't participate in any talks toward a global agreement that do not include energy guzzlers from the developing world.
Bush made clear, however, that he saw his talks as complementary to the U.N. negotiations over what will succeed the Kyoto treaty after 2012. U.N. Secretary General Ban Ki-moon held a summit Monday to grease the wheels for an agreement in December in Bali, Indonesia. Bush has seemed more sensitive lately to perceptions in other parts of the world that the U.S. government either does not take the phenomenon of global warming seriously - or seriously enough.
Copyright 2018 The Associated Press. All rights reserved. This material may not be published, broadcast, rewritten or redistributed. We strive to uphold our values for every story published.