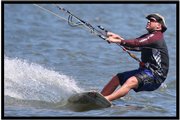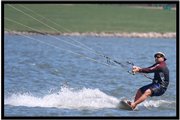 Sean Beaver was determined to bring a little bit of Hawaii to the Midwest.
Six years ago, Beaver was vacationing in paradise and gave kiteboarding a try. The sport got its hooks in him, and he was convinced it would, well, fly in middle America.
"I got into it during a trip with my dad," said Beaver, president of the Kansas City Kite Club. "At the time, it was kind of a tourist-type experience, like when you go to Mexico and go parasailing or riding a bike. I saw that and gravitated toward it. I took a lesson and jumped into it and have been into it ever since."
Though he had to leave the beaches and sunsets and near-perfect weather behind, kiteboarding - an extreme sport also known as kitesurfing, in which practitioners are pulled across the water by powerful kites - isn't as out of place in the center of the Lower 48 as it might seem.
"The main difference is the salt water, obviously," Beaver said. "Too, the waves are breaking. There, you can get out in the most viscous waves you've ever seen. People are doing some amazing stuff. And the bikini ratio is higher there, I think. Other than that : "
Beaver isn't alone.
He estimated about 200 kiters might be enjoying "any given windy day" at area lakes from Hillsdale to Clinton to Perry.
"It's growing," Beaver said. "They say it's the fastest growing watersport since the Jet Ski. I always tell people, 'If you haven't seen it, you will.'"
If you haven't seen it, it's impressive.
Hooked to a huge kite, kiters strap boards to their feet and race across the water, carving turns and occasionally launching huge jumps off waves.
"It just looks like a really good thing to do," Beaver gushed. "You can go just as fast as any boat out there, and the whole thing fits in a backpack. It's intense, but I enjoy it for the serenity of it. You're at one with nature.
"And a lot of people think you have to be a superhuman athlete to do it, but you don't. It's actually an easy sport to learn. If you have a moderate amount of physical activity, you'll be fine. I went as a tourist, and it was one of the most exhilarating things I've been involved in."
If there's a drawback to kiteboarding, it's the steep startup cost.
Beaver said a complete kiteboarding setup would run between $1,500 and $2,000.
"You can spend a lot more than that for top-of-the-line stuff, but for the average person getting into it, I'd say around $1,500," he said.
Though Beaver said it's easy enough to pick up, he suggested aspiring kiteboarders would benefit from actual instruction.
"You have to learn how to fly a kite," he said. "That's 70 percent of the sport. About 30 percent of it's the board, controlling the board. You can learn it real quick, the safe operation of a kite in the wind conditions, understanding how powerful it is compared to the wind window, your imaginary direction relative to your body, the different equipment you have to get familiar with.
"Then you work into assisted kite launching and landing, control and power control. You work through general water control when the board starts, self recovery and a host of right-of-way issues. Then you're up and going."
Never mind the mumbo jumbo, Beaver assured.
"Really, it's a fairly easy system to learn," he said. "You can do it in a day or two. It's not a tough thing to learn. But it's not one of those sports you want to try to dabble in. It's a sport you have to be committed to learning. It's not like you ride a bike and hang out on a bike all day, then put it away. Somebody's not going to try to make this investment in all this gear and just try it.
"I've seen a lot of people get into and out of watersports. We go where the wind is. Some days it's great, some days it's not. Some days it's blowing great and I have to work. Some days it's too windy. I tell people to understand what their motivations are. If you just want to try it, go to a vacation destination and try it."
Beaver said he prefers to kiteboard in winds from 15-25 mph.
"In those conditions, you can pretty much say it's pretty safe," he said. "There are other guys who push it outside that range, but, generally speaking, I'm a 15-20 (mph) guy. : You have to be safe. The sport can turn on you in an instant. It can get ugly real quick. It is an extreme sport, and people have to respect the power of the kite."
Beaver says he has kited at just about every lake in the region.
Clinton Lake used to be a favorite destination, and he still kites there occasionally.
"I used to be a bigger fan of Clinton," he said. "I love the college, but in the summer, there's a lot of drinking and drugging going on at Clinton. I don't want to mix my sport with idiots on Jet Skis. Over time, I've decided it's a little safer for me to go where there's less of that. Smithville Lake's good for that. For people learning the first time, Clinton can be intimidating."
Copyright 2018 The Lawrence Journal-World. All rights reserved. This material may not be published, broadcast, rewritten or redistributed. We strive to uphold our values for every story published.