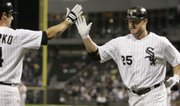 Chicago — It has been awhile since Jon Garland pitched his last shutout, so with a long rest coming, he took advantage of a chance to finish off a game.
Jim Thome hit his 505th home run, and Garland pitched his first shutout of the season as the Chicago White Sox defeated the Kansas City Royals, 3-0, on Wednesday night.
Jermaine Dye added a two-run homer for the White Sox, who moved out of a tie with the Royals for last place in the AL Central.
Garland (10-13) won for just the second time in 11 starts, allowing just three hits while striking out two and walking two.
"I came out in the eighth inning and I saw him (manager Ozzie Guillen) walking toward me in the dugout and I wasn't sure if he was going to give it to me or not," Garland said. "I didn't know where my pitch count was, but in the same breath, I don't have to pick up a baseball for three months."
He retired his last nine batters and improved to 16-6 in his career against the Royals. It was Garland's sixth career shutout and first since Aug. 24, 2006, against Detroit.
Garland, who has been the subject of trade rumors in the past, didn't want to ponder if this was his last start for the White Sox.
"At this moment, it's not even in my hands," said Garland, who has pitched for the White Sox for eight seasons. "There is nothing I can do about it. I would like to be back here."
After pitching eight scoreless innings on Sept. 20 against the White Sox, Royals starter Zack Greinke gave up a solo home run to Thome in the first inning and was tagged by Dye for a two-run homer in the fourth inning.
It was Thome's 33rd of the season and moved him to 22nd on the all-time list, passing Eddie Murray. Dye's homer was his 28th of the season.
The only hits surrendered by Garland were base hits by David DeJesus, Mark Grudzielanek and Mark Teahen.
Greinke (7-7), who was shuffled between the rotation and the bullpen throughout the season, allowed three runs and seven hits in five innings. He had six strikeouts and walked two.
"I think he was good enough to win. He gave us a chance to win. He didn't give up much," manager Buddy Bell said.
"He hung the breaking ball to Dye and the home run that Thome hit looked like it was thigh-high and over the middle of the plate. Other than that, he had some innings where he was in a little bit of trouble but he handled that pretty good."
Notes: The White Sox held a moment of silence before the game for William Wirtz, who died Wednesday at 77 after a battle with cancer. Wirtz was the longtime owner of the Chicago Blackhawks. ... Royals OF Emil Brown threw out Scott Podsednik at the plate trying to score from second on Juan Uribe's single in the fourth inning. ... C Toby Hall threw out John Buck attempting to steal second in the fifth inning. Opponents have been successful 24 times in 27 attempts against Hall this season. ... Garland turns 28 today.
Copyright 2018 The Associated Press. All rights reserved. This material may not be published, broadcast, rewritten or redistributed. We strive to uphold our values for every story published.