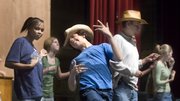 Lawrence High School students are using their stage to break an unnecessary stigma.
"Even though somebody is different, it doesn't mean that they can't succeed in a way that exceeds expectations," said Charlie Goolsby, an LHS drama teacher.
He's talking about "The Jellybean Conspiracy," a play with a message of including those with disabilities in daily life. The first half of the play is like a variety show, where anyone - whether they have a disability or not - can participate by reading a poem, singing or playing an instrument.
The show's second half is an award-winning play written by Linda Daugherty, the current playwright-in-residence for the Dallas Children's Theatre. It's the story of a girl who comes to grips with the fact that her brother has autism, Goolsby said.
The script was originally written with the brother having Down syndrome. Because LHS staff had in mind student John Hathaway, who has autism, for the part, they were able to get the changes written into the script and approved by Daugherty and producer Howard Martin, a University of Kansas City-Missouri theater professor.
"This falls right into (Hathaway's) interests and abilities, and also it gives him some positive contacts with his peers and gives him a chance to showcase some things to the community," said Deb Engstrom, an LHS special education teacher.
The cast members have warmed up to Hathaway as well during the weeks of rehearsal.
"I think every day, we see a little bit more of the payoff coming," Goolsby said.
Martin is executive director of "The Jellybean Conspiracy," which uses the examples of jelly beans of varying shapes, colors and flavors to showcase differences in people but "every one of them is good," Goolsby said.
"The conspiracy part of the show is that we're letting everybody else in on the secrets of the jelly beans, which are those differences that we all have," he said.
Other special education students have roles.
"Everybody is just like one another, and we all are different individually in our own special ways but in good ways," said Laura Williams, an LHS senior, who plays the aunt of the featured brother and sister.
And junior Carina Fowler, who plays Hathaway's sister, says the show has the potential to educate the audience.
"I guess I hope that they realize that disabilities aren't necessarily 'dis-a-bilities.' Everyone has something to share," she said.
The show is grant-funded and coordinated by Accessible Arts Inc. in the Kansas City area. Show times will be 7:30 p.m. Oct. 4 and Oct. 6 at the school's auditorium, 1901 La. An afternoon show Oct. 5 will have several junior high school students in attendance. Tickets can be purchased at the door.
Community event
In addition to the play "The Jellybean Conspiracy" Oct. 4 through Oct. 6 at Lawrence High School, Accessible Arts Inc. is sponsoring "Families with a Beat!" with "Bongo" Barry Bernstein, who uses world music and rhythm to get audience participation. Hand percussion instruments are provided.
A free dinner begins at 6:30 p.m. Oct. 8 in the LHS cafeteria, 1901 La., but reservations are required. Admission for the 7:30 p.m. event is also free. For reservations call (785) 330-2151.
Copyright 2018 The Lawrence Journal-World. All rights reserved. This material may not be published, broadcast, rewritten or redistributed. We strive to uphold our values for every story published.