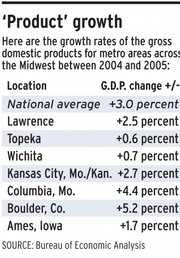 A new government report provides more data to suggest Lawrence's economy has begun to slow down in recent years.
Lawrence's gross domestic product grew at a rate less than the national average in 2005, the most recent year for which data is available. That's according to a report released Wednesday by the U.S. Bureau of Economic Analysis.
But the report also shows that Lawrence's economy since 2001 has been more stable than several other Midwestern communities.
The city's GDP, which is a broad measure of activity in an economy, grew by 2.5 percent in 2005. That was less than the 3 percent national average.
"It sounds like another set of numbers that indicate Lawrence is lacking that above-average growth that we've experienced pretty consistently for the past 20 or 30 years," City Commissioner Mike Dever said.
City leaders also have been looking at Census and sales tax data that have showed a slowdown in growth, or even declines in the past two years.
Lawrence fared better when looking at its GDP growth rates since 2001. During that time period, Lawrence had a 2.8 percent growth rate, which was better than the 2.6 percent national average. It also was better than Kansas City (2.25 percent), Topeka (0.4), Wichita (-0.85), Columbia (1.4), Boulder (0.1), and Ames (2.2).
The report also provided information on what parts of the city's economy are growing. In 2005, the government sector posted the most growth at 0.44 percent. Other sectors included: financial activities at 0.43 percent; education and health services at 0.38; and nondurable goods manufacturing at 0.39 percent. Natural resources and mining was the only category that declined in Lawrence. It dropped by 0.31 percent.
Wednesday's report marks the first time the Bureau of Economic Analysis has prepared GDP estimates for all metro areas. The agency looked at several pieces of data to create the estimates, but relied heavily on wage data that counties supply to states.
Copyright 2018 The Lawrence Journal-World. All rights reserved. This material may not be published, broadcast, rewritten or redistributed. We strive to uphold our values for every story published.