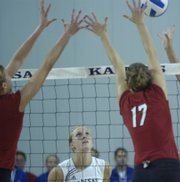 The defending national volleyball champion Nebraska Cornhuskers arrived at the Horejsi Center ranked No. 1 in the nation and displayed their depth and dominance by sweeping Kansas University, 30-18, 30-24 and 30-18, Wednesday at Horejsi Center.
The Jayhawks (9-6, 2-3) needed a perfect outing to stand a chance against the elite Huskers (11-0, 4-0), who have only dropped one game - in a 3-1 victory over No. 5 UCLA August 25 - all season.
"You've got to be really good for a long time," KU coach Ray Bechard said of what it takes to knock off Nebraska.
The Jayhawks looked up to the challenge at times and were especially hyped for the showdown with the country's best team.
Freshman outside hitter Jenna Kaiser led Kansas with eight kills, five of which came in the tightly contested second game.
"All the freshmen newcomers, we (didn't) know what it was like to play against Nebraska," Kaiser said of why she and her teammates were so excited.
But the Huskers stymied that excitement with a clean sweep and left Kaiser saying Nebraska's roster was the best she ever h ad seen.
Her coach agreed.
"In my 10 years here, it's one of the better teams I've seen come through Horejsi," Bechard said.
He said the team's goal was to play the heavy road favorite close and get them in a 20-20 game. The Jayhawks almost did that in the second game, which they led in the early going. The game was tied at 17 before the Huskers finished Kansas off.
Glancing at the scores after the loss, Bechard said the match felt more competitive than the stats indicated.
"That's what they do to you. They just grind you down, wear you down and wear you down," he said, adding that their great balance, depth and talent makes them tough to topple.
The Huskers are so deep that their most nationally-renowned players - Christina Houghtelling and Sarah Pavan - weren't even the best players on the team Wednesday. Nebraska Junior Jordan Larson dominated, leading all players with 17 kills and contributing 11 digs - matched only by KU's Katie Martincich.
Bechard said the Huskers combine superior passing and digging with incredible size and athleticism.
"I think that's what makes them special," he said, adding that Kansas won't see a more offensive or physical opponent all year.
KU sophomore Brittany Williams missed the Jayhawks' first game with Nebraska - Kansas travels to Lincoln for a rematch October 20 - due to a left-knee injury.
"When you're faced with somebody that's got to sit out, other folks have got to step up," Bechard said.
Although the Jayhawks were without one player, they got another important one back Wednesday. Middle blocker Natalie Uhart played against the Huskers after missing close to a month of action while receiving treatment for a congenital heart defect.
A junior from Lansing, Uhart became ill August 31 during a match against Michigan State.
Uhart not only played, but had an impact, too, playing in all three games and recording seven kills, two digs and a service ace.
"Uhart hasn't been out there for 10 matches and I thought she played extremely well with a lot of courage," Bechard said, adding that she impressed him because he figured she would be a little rusty. "She raises everybody's level because she's a great communicator, a great competitor and a great teammate."
"We all missed her," Kaiser said of Uhart. "We missed her little comments and her spark to the team. She's always positive."
Before the game, Uhart told her teammates to play hard because the opportunity to compete can be taken away without notice.
Uhart underwent surgery to correct her heart defect - a patent foramen ovale - Sept. 12 and was released the next day.
"I am excited about putting this all behind me," Uhart said in a released statement. "There's nothing I want more than to help this team get back to the NCAA Tournament."
Kansas, which has done so in three of the last four years, travels to Iowa State on Wednesday.
Copyright 2018 The Lawrence Journal-World. All rights reserved. This material may not be published, broadcast, rewritten or redistributed. We strive to uphold our values for every story published.