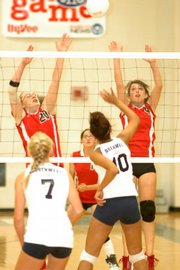 For the Central Mustang freshman volleyball team things haven't gone as well as hoped.
With a week left in the brief junior high volleyball season, the team sits at 2-14 and well behind in the city standings.
Some of the Mustangs' matches have been competitive, others not so much. This has often been the result of a relatively inexperienced team facing intra-city teams as well as out-of-town squads that boast strong volleyball backgrounds.
Despite the losses, there have been a few bright moments for head coach Kim Henrichs and his team.
"The girls are learning the game," Henrichs said. "They've made a number of improvements since the start of the season and they're having fun. It's amazing how many things they're doing well."
That outlook has made a season full of losses somewhat easier for the players to take.
"We stay positive," Mustang freshman Katy Thellman said. "We make each other smile and try to have a good time."
Thellman's teammate, Aly Frydman, loves the positive attitude her team has, even though that doesn't always stop her from getting frustrated.
"It (losing) probably bothers me more than maybe some of the others," Frydman said. "But we're having fun and learning a lot."
In the sense of having fun playing volleyball, winning still qualifies, and of the two wins recorded this year, there is one the Mustangs feel quite proud of.
"We beat West," Frydman said.
Central lost two weeks ago to the Warhawks at the annual city quadrangular at Free State High. The 2-1 setback cost the Mustangs a chance at third place, but the rematch at West Junior High ended with Central winning two games to none.
"It was a nice win for them," Henrichs said. "It was a bit of reversal of fortune. We let one get away earlier and this time the girls played really well."
The victory although only the second of the year, helped build the girls' confidence about how far they've come in their development as players. But with a tough part of the schedule still ahead, it also tells them how far they have to go.
Both Frydman and Thellman feel the key to continuing development of a solid volleyball team isn't necessarily during September's practice.
"We try and do clinics and stuff during the offseason," Frydman said.
It's a formula many of the players at Southwest Junior High have used for quite some time, hence a one loss season up to this point.
"We try and do a clinic or club team," Frydman said. "But we go there and the Southwest girls are all involved in three or four clinics or team. We just laugh."
Funny or not, the offseason training is starting to become important for the Central freshman volleyball program to take steps forward.
The current Mustang freshman have encouraged the current eighth graders to get involved in clinics and club teams to help improve their skills for the tough competition.
Some of those eighth graders have taken notice.
"I think next year's team will be better," Frydman said. "I know some of them are involved in clinics and stuff. It's going to help."
As for right now, the Mustang girls feel good about how they've done during this season.
Some feel as though they've come a long way.
"I never played volleyball up until two years ago," Thellman said. "I've learned so much since then. It's not even close."
Copyright 2018 The Lawrence Journal-World. All rights reserved. This material may not be published, broadcast, rewritten or redistributed. We strive to uphold our values for every story published.