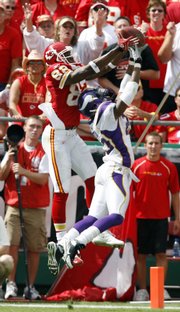 Kansas City, Mo. — The way Minnesota kept stuffing Larry Johnson, it seemed as though spies had sold copies of Kansas City's game plan to the Vikings.
So just in time, the Chiefs abandoned their running game, took to the air and barely avoided their second 0-3 start in 27 years.
Dwayne Bowe and Tony Gonzalez fueled their only sustained drive with clutch catches in the fourth quarter, and the Chiefs came from behind to beat Minnesota, 13-10, Sunday, snapping a seven-game losing streak that had stretched back to January's playoffs.
"We wanted to run the ball down their throat. That was the game plan," said Bowe, who caught Damon Huard's go-ahead 16-yard touchdown pass with less than 10 minutes remaining.
"But the second half, we made some changes."
The Chiefs wanted to get Johnson, their two-time Pro Bowler, on track for the first time all year. But Johnson, still chipping away rust following his 25-day holdout and dogged by a defense trained squarely on him, was held to 42 yards on 24 carries. At one point in the third quarter, he lost yardage on three consecutive carries against a Minnesota defense stacking eight and sometimes nine men in the box.
But Bowe, their first-round draft pick last April, beat Cedric Griffin in the corner of the end zone for the go-ahead score.
"It was kind of a tale of two halves," said Minnesota coach Brad Childress. "Obviously, our defense was very stingy in the first half and we had to get off the field in the second half."
Rookie Adrian Peterson rushed for 102 yards and caught three passes for 48 yards for Minnesota (1-2). He scored the Vikings' only touchdown on an 11-yard run.
"Seven games to lose in a row, we can't tolerate that," said Gonzalez, figuring in the Chiefs' four preseason losses. "Everybody was frustrated at halftime. Guys were wanting to make plays. We were maybe trying too hard."
The Vikings' "secret" starter at quarterback turned out to be, as most people suspected, the well traveled Kelly Holcomb, who made his 22nd start of a 13-year career for the injured Tarvaris Jackson.
Gonzalez got open for a 15-yard gain on third down in the go-ahead drive and two plays later Huard connected with Bowe for 17 yards. After play was stopped for a few minutes when a man ran onto the field, the Chiefs moved down for their second offensive touchdown of the year.
"We ran into a pack of dogs with those Minnesota Vikings. That's a great defense," said Huard. "They were able to stuff the run and put us in third and long situations."
The Chiefs had only 56 total yards in the first half.
"I think we were pressing a little too much as a group," Huard said. "We just put too much pressure on ourselves early in the game."
Holcomb, making his first start since the end of the 2005 season with Buffalo, was 14-for-28 for 165 yards and guided the Vikings to their only touchdown on their first possession of the warm, sunny afternoon.
After Holcomb hit Sidney Rice for 18 yards on third down, Peterson ripped off a 16-yard gain before turning the corner and outrunning cornerback Ty Law into the end zone from the 11.
"He is a tremendous runner," said Chiefs defensive end Tamba Hali. "I don't think I was able to get a hand on him all day."
Dave Rayner kept the Chiefs close with two field goals, hitting a 39-yarder in the second quarter and connecting from 49 yards in the third after Huard connected with Samie Parker for 22 yards on third-and-15.
If not for two overthrown passes that grazed the outstretched fingertips of wide open receivers in the end zone, the Vikings would have led 21-3 at the half.
After Chad Greenway recovered Huard's fumble on the Kansas City 33 in the first quarter, Holcomb hit tight end Visanthe Shiancoe for a 25-yard gain to the 8. On second down, running back Mewelde Moore took a pitch, pulled up and heaved a pass for Shiancoe, who was all by himself in the end zone.
But the ball was overthrown, and hit the ground as the tight end cradled it into his arms while falling to the turf.
On their final possession of the half, Holcomb overthrew a wide open Robert Ferguson in the end zone.
"I thought I made a good throw, but obviously it wasn't," said Holcomb. "When it left my hand, I thought it was good. That's one of those plays you've got to make."
Notes: The Vikings have lost their last five games on natural grass. ... The Chiefs are 3-1 all time against Minnesota at home. Since 1990, the Chiefs are an NFL-best 103-34 at home. ... Holcomb is 8-15 as a starter. ... In his first game since a two-game suspension, Chiefs DE Jared Allen had a big day with eight tackles, two sacks, two passes deflected, three quarterback hurries and a forced fumble. It was his seventh career multi-sack game.
Copyright 2018 The Associated Press. All rights reserved. This material may not be published, broadcast, rewritten or redistributed. We strive to uphold our values for every story published.