Photo Gallery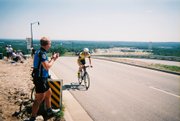 Tour of Missouri
Randy Breeden might never see the Tour de France in person.
But he saw the next-best thing.
OK, maybe it was the next-to-the-next-best thing. Or the thing after that.
Breeden and friend Norm Cluff - both longtime Lawrence cyclists - headed across the state line to watch three of the six stages of the Tour of Missouri up close and personally.
"I always wanted to follow a tour around, like the Tour of Georgia or the Tour of California," Breeden said. "I wanted to go watch a bike race go by. A lot of people do that with the Tour de France. When I heard there'd be one starting in my own back yard, it was a no-brainer. I had to go."
So last week, Breeden and Cluff loaded up clothes and bikes and headed to Kansas City, Mo., for the race's first stage. Wednesday's second stage took them to Springfield, and Thursday they landed in Branson.
Along the way, they brushed elbows with some of the biggest names in the sport and cycled along some of the same roads.
"I'm a nut for that kind of stuff," Breeden said. "It was great. I thought it was awesome."
If Breeden has one regret about the tour of the Tour, it's that the two cycling pals didn't get to ride much.
They spent most of Tuesday at the start/finish area on the Plaza and didn't ride at all. They rode about 50 miles on Wednesday - from their hotel in Springfield to the feed zone and back - and about 20 miles on Thursday.
"I would have liked to have done the whole thing," Breeden said. "It was so much fun, I want to get other people to do it with us next year. Someone can take turns driving the car, and the others can ride the route they ride on, then watch the racers go by. You could ride clear across the state. With just two of us, that wasn't practical. But four or five guys can do it."
Lack of saddle time was about the only regret the two men expressed.
"The thing that surprised me most was how close you could get to the pros," Cluff said. "They're international stars, and we could get right up to them. You could see them riding around in the parking lot. I was amazed how close we could get to them."
Some of the biggest names in the game attended the Tour of Missouri.
Among them: Alberto Contador, this year's Tour de France champion; Levi Leipheimer, who placed third in the Tour de France; and fan favorite George Hincapie, who eventually won the Tour of Missouri when it ended Sunday in St. Louis.
"They're like celebrities in the cycling world," Cluff said.
Though neither Breeden nor Cluff is new to cycling, they were awestruck by the power of the pro peloton - the fast-moving main pack of riders.
"It was awesome," Breeden said. "I've watched these guys on TV. I'm a recreational rider, but I ride with a lot of the local racers in town. I'm pretty fast. I know how hard it is to do what those guys do. But those guys are phenomenal, tremendous athletes. I ride maybe 100, 200 miles a week. That's a lot for most recreational riders. Those guys ride 100 miles a day in training - hard training. And when they went by in the sprint : I've seen that before, because I'm a bike rider, but the speed they went by was just incredible. It was like a semi-truck."
"You could feel a blast of wind as they went by," Cluff added. "It was exhilarating."
A highlight for Breeden was meeting veteran pro Scott Moninger.
Fifteen years ago, Moninger was in his second year as a pro rider, and he came to Lawrence to take part in the swapmeet that is part of the Octoginta ride weekend. The Octoginta is the season-ending ride organized by the Lawrence Bicycle Club.
At that swapmeet, Breeden bought a bike from Moninger.
"I thought it would be cool to get a picture with him and the bike that started my love affair with cycling," Breeden said. "Since I bought that bike from him, I followed his career on TV, whenever I could catch it. For him to be a pro racer for 17 years is just unheard of. That was that last race he rode as a pro. He retired after the race. So it was just perfect to be able to meet him."
Copyright 2017 The Lawrence Journal-World. All rights reserved. This material may not be published, broadcast, rewritten or redistributed. We strive to uphold our values for every story published.