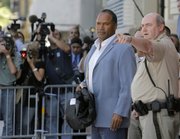 Las Vegas — In a scene of legal dejà vu, a grayer, heavier O.J. Simpson stood handcuffed in court Wednesday to face charges that could put him behind bars for life. The prosecutor who failed to get him a dozen years ago was there to watch, and news cameras tracked his every move as if they were covering a slow-speed chase.
But as Simpson, 60, made his $125,000 bail on charges including kidnapping and armed robbery, legal experts were questioning: Could a former football star who beat a double-murder rap really do hard time for a crime that sounds like a bad movie?
Police have laid out a case that makes Simpson the leader in a tense, armed holdup of sports memorabilia collectors. Some of the facts - including a curious recording of the confrontation - don't seem so clear-cut.
Legal experts say issues such as who had rightful ownership of the goods and the reputation of witnesses in the sometimes less-than-reputable world of memorabilia trading could the cloud prosecution's case.
Simpson has insisted he was merely retrieving items that were stolen from him earlier.
'Shady characters'
Alfred Beardsley, one of the collectors who says he was robbed at gunpoint by Simpson and several other men, told NBC's "Today" show before Simpson's hearing that he didn't think an audiotape made at the scene was accurate. Beardsley was arrested for a parole violation on Wednesday.
The man who arranged the meeting between Simpson and the two collectors, Tom Riccio, has a criminal record. The other victim, Bruce Fromong, was recovering from a heart attack in a Los Angeles hospital.
"The credibility of the cohorts in the enterprise would be a key issue at trial," said University of Southern California law professor Jody Armour.
Agreed, said Dennis Turner, a professor at the University of Dayton School of Law. "This is a pretty shady world and pretty shady characters dealing with each other in a pretty shady way."
A key difference with the 1995 murder trial is that there are plenty of witnesses this time who place Simpson at the scene, including hotel video surveillance. Simpson has made no secret he went to the hotel room intending to take the memorabilia and told The Associated Press that a man who came with him brought a truck to cart away the goods.
"It's not like the murder case involving his ex-wife and Ron Goldman, where Simpson had a completely different story in which he said, 'I wasn't there,"' said Doug Godfrey, a professor at the Chicago-Kent College of Law. "A prosecutor only has to show intent. And the intent is, 'Were you acting in concert with someone with a gun to take property from someone?' If you were, you're guilty of armed robbery."
Simpson attorney Yale Galanter said: "You can't rob something that is yours."
Leaving Las Vegas
The Heisman Trophy winner spent three nights in jail after being charged with kidnapping, robbery with use of a deadly weapon, burglary while in possession of a deadly weapon, coercion with use of a deadly weapon, assault with a deadly weapon, conspiracy to commit kidnapping, conspiracy to commit robbery and conspiracy to commit a crime.
On Wednesday, standing in court in a blue jail uniform and handcuffs, Simpson furrowed his brow as the judge read the list of charges against him. Gone was the slight smirk he flashed when he was arrested.
He answered quietly in a hoarse voice and nodded as the judge laid out restrictions for his release, including surrendering his passport to his attorney and having no contact with co-defendants or potential witnesses.
Simpson did not enter a plea. His next court date is the week of Oct. 22.
He flew home to Miami later Wednesday in a spectacle just as surreal as his court proceedings. US Airways emptied a plane so he could board first with Galanter and his girlfriend, Christine Prody.
Simpson sat in seat 6D, an aisle seat in economy class. Passengers who boarded behind him took pictures with cell phones and cameras. He nodded and smiled as they passed.
Copyright 2018 The Associated Press. All rights reserved. This material may not be published, broadcast, rewritten or redistributed. We strive to uphold our values for every story published.