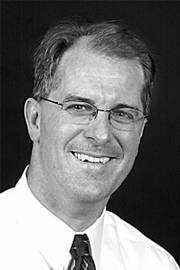 Johnson County District Attorney Phill Kline, a former Kansas Attorney General, won't seek public office in 2008.
Kline released a short statement to that effect this morning through his office's public information officer.
"Elected office is not the only manner in which one can engage with passion the significant issues of the day and after my tenure as district attorney I will engage other opportunities in which to do so," according to the statement.
Spokesman Brian Burgess said the statement speaks for itself and that Kline was concentrating on finishing out the remainder of his term as district attorney.
A conservative Republican who is known for his anti-abortion stance, Kline was elected to the Kansas House in 1992 and served for eight years.
Kline served as Kansas attorney general beginning in 2003 but lost his re-election bid last year to Democrat Paul Morrison, a former Republican who was the Johnson County district attorney and switched parties to challenge Kline. Because Morrison had won the county office as a Republican, the GOP had the right under Kansas law to replace him and chose Kline.
Morrison's chief counsel, Rick Guinn, announced earlier this summer that he would run as a Democrat and seek to become Johnson County district attorney in 2008.
In his statement this morning, Kline said it had been an honor to "join with good people to accomplish good things" during his 15 years in public service.
Copyright 2018 The Lawrence Journal-World. All rights reserved. This material may not be published, broadcast, rewritten or redistributed. We strive to uphold our values for every story published.