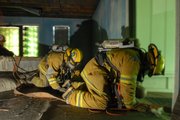 It's dark. They can't see where they're going, and they are quickly running out of air.
Lawrence firefighters, on their hands and knees, feel their way around obstacles, finally reaching a small hole in a wall and attempt to rescue a fellow firefighter in need.
"If it took you 20 minutes to get in, it's going to take you 20 to get out, and you have only five minutes left of air," Lawrence-Douglas County Fire & Medical Division Chief Shaun Coffey tells three firefighters, working as part of the Rapid Intervention Team, or RIT.
But these firefighters aren't inside a burning building. Instead, they're practicing their life-saving skills inside a dilapidated structure at Bishop Seabury Academy that's slated for destruction.
"I couldn't think of a better use for the building," Bishop Seabury Headmaster Don Schawang said. "It's really impressive the things that they're doing."
During the three days of training this week, 130 Lawrence firefighters will take what they learned in the classroom and put it to use practicing two real-life scenarios.
"This is the one training a year that we do that is specifically designed to save our own people," Lt. Mike Fulkerson said. "If somebody goes down within a structure, whether it's a collapse or they run out of air or have a medical condition, we have procedures in place where we can go in and get our own."
Kicking holes in the drywall to form a makeshift ladder, firefighters practiced climbing their way out of a hole in case of a floor collapse. They used ropes to tie what they call "handcuff knots." Then, working with fellow firefighters, they used a pulley system to pull a 100-pound dummy to safety.
This week it was a mannequin dressed as a firefighter, but in 2002 it was the real thing. Firefighters were battling a blaze at the Hanover Place Apartments that broke out Christmas night. A section of the floor collapsed, sending firefighter Steve Smith into the basement.
Firefighters lowered a new oxygen tank and mask down to Smith, who was rescued within five minutes of the floor collapse. He suffered only minor injuries. On Tuesday afternoon, he participated in the RIT training.
"Several years ago we had to put these practices in place. It's very eye-opening," Lt. Fulkerson said. "You get this feeling in your gut that's indescribable, and when it's your own you risk more at that point to take care of the problem."
Firefighters also practiced rescuing an injured firefighter trapped in a building, a task that was made more difficult by wax paper placed in their masks to simulate a dark, smoky environment.
"This is probably the worst scenario you can possibly imagine, especially if it's one of your own," Division Chief Eve Tolefree said while observing the training.
But as Training Capt. Pat Talkington told the crews, this is the place to practice it.
"We don't want to end up having two firefighters down," he said.
The training was a learning experience for the 110 students who attend Bishop Seabury, too. On Wednesday morning, one of the firefighters spoke to the students, explaining what they've been doing inside the vacant building on their campus.
"It was a pretty emotional experience," Schawang said. "Here they are there to protect and knowing they're out there for us, I think the students really felt the significance of what they're doing."
Copyright 2018 The Lawrence Journal-World. All rights reserved. This material may not be published, broadcast, rewritten or redistributed. We strive to uphold our values for every story published.