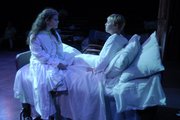 Jayke Workman wasn't sure about wearing a nightgown in public.
After all, it's not exactly customary bedtime attire for the 11-year-old Raintree Montessori School student.
But duty called, and Workman's not one to turn down a leading role in a play. So you'll find him wearing a loose white gown during most of his scenes as the wheelchair-bound son, Colin, in "The Secret Garden," which opens Friday at Lawrence Community Theatre, 1501 N.H.
Workman eventually came to terms with the fact that boys clad in nightgowns wouldn't have been unusual in England at the turn of the 20th century.
"And it's quite comfortable," he says.
Workman is one of three youngsters who form the core of the musical, based on the classic children's book by Frances Hodgson Burnett.
The show, adapted for the stage by Marsha Norman with music by Lucy Simon, follows 10-year-old Mary Lennox (Sally Spurgeon), who is sent to live with her reclusive Uncle Archibald in Yorkshire after her entire family dies of cholera in India. But Archibald can't muster the stamina to care for a child because he's still consumed with grief over the death of his wife, Lily, a decade ago.
Mary's a bit of a snob when she first arrives, but she softens when she discovers Lily's secret garden and begins nursing it back to life with the help of Dickon (Jacob Leet), the chambermaid's nature-loving brother.
In a song called "Wick," Dickon explains to Mary that even if a plant appears to be dead, it might contain a spark of life inside that, with a little nurturing, could lead to rejuvenation and growth.
"Every song in this play is a metaphoric song," says Leet, 14. "Like in 'Wick.' He's talking about plants, but he's really talking about Mary. If you look deep inside, you're going to find the real Mary, the blossom."
Mary also gets by in her new surroundings with the help of a chorus of ghosts that represent the memories of her family. These figures advance the story through song, filling in the past with flashbacks and dream sequences.
The people playing these roles also serve as inspiration for the play's child actors.
"It's a real great experience for me because I get advice from experienced actors and singers," Leet says. "They're very supportive."
And light-hearted, Workman adds.
"They're theatrical adults, so they're all just still kids inside," he says. "Out on stage, they just burst into character, and it's a lot of fun to work with them."
Mary Doveton, who's directing the show, says the child actors have been "remarkable."
"There's certainly a strong theme of friendship, with several lonely children who haven't had normal relationships with family or friends or confidantes who find each other," she says. "In the end, of course, the uncle and his son and Mary create a new family together."
Despite the happy ending, Sally Spurgeon says the show's dark, sometimes depressing themes make it challenging.
"It's also all in a British accent," says Spurgeon, 12.
But onstage pillow fights and period costumes add a sense of adventure for the youngest cast members.
"Sally has like 50 trillion dresses," Workman says.
Though it's not the dresses that fascinate Spurgeon.
"I like bloomers," she says.
And ironically it's Leet - playing the poor brother of a maid who can afford only variations on a single outfit - who has proven the envy of his two comrades.
"He has a pretty cool vest," Spurgeon says.
Copyright 2018 The Lawrence Journal-World. All rights reserved. This material may not be published, broadcast, rewritten or redistributed. We strive to uphold our values for every story published.