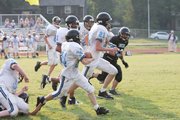 The West Freshman football team traveled to Shawnee Mission East on Wednesday, but unfortunately the only thing the home team could offer was to send the Warhawks home with a 12-0 loss.
"We played a pretty good game," West coach Mike Gillman said. "I thought we ran the ball pretty well, we just couldn't throw it when we needed to."
The Warhawk running game produced a solid 65-yard rushing performance from Aaron Rosenstengle, but it wasn't enough to overcome the turnovers and stalled drives that doomed West.
Shawnee Mission East got its game going by capitalizing on an early fumble deep in West territory. Two plays later the home team scored what proved to be the winning touchdown for a 6-0 lead.
The Warhawk defense held its ground for the rest of the half, giving the offense a chance to even things up. But a major third quarter drive only reached Shawnee Mission East's 30-yard line, before an incompletion on third down ended the drive.
Defensively, West kept up the pressure the entire game. Linebackers Robert Flaig and Tucker Fritzel each had eight tackles, while Trey Larson and Zach Saunders each had a sack.
Shawnee Mission East added a touchdown with less than 20 seconds to go to seal the victory.
West (1-4) wraps up its out-of-city schedule with a Wednesday road trip to Shawnee Mission Northwest.
Copyright 2018 The Lawrence Journal-World. All rights reserved. This material may not be published, broadcast, rewritten or redistributed. We strive to uphold our values for every story published.