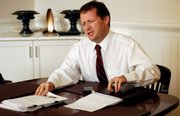 A number of documents containing Kansas University student, faculty and staff personal information were sent Tuesday to the Lawrence Journal-World.
The information was accompanied by an anonymous letter, which said that the documents were recovered from the recycling and trash in the Mathematics Department at Kansas University. The letter, which purports to be from former department teaching assistants and current employees of the KU Recycling Center, said that several attempts to make the math department take better care of the information have gone unheeded.
KU spokesman Todd Cohen said the university takes breaches of personal privacy seriously. An investigation was launched Tuesday night when the Journal-World contacted KU to inquire about the documents it received.
"We need to retrieve these records as quickly as possible," Cohen said. "We take protecting this kind of information very seriously. This is a very, very serious issue."
This is the second time in the past six months that student personal data was found unsecured. This summer, a number of student final exams were discovered unsecured in the halls of Wescoe Hall, which was about to undergo renovations. At the time, the university pledged to do a better job of safeguarding records.
The records sent to the Journal-World, and possibly two other area media outlets according to an accompanying letter, included student exams, student change of grade forms, class rosters, copies of health insurance cards, copies of immigration forms as well as a copy of a Social Security card.
Math Department chairman Jack Porter said he was concerned that this information may have been ascertained through other means, like theft from an office. He said he keeps student information on his desk. He said the department does have a policy on the care of personal information, but he otherwise refused to comment.
Several students who were contacted were shocked to learn that their information was shared, but most declined to comment, citing further privacy concerns.
The university has requested that all the documents be returned to the university immediately.
The Journal-World has made the documents available to KU to assist with its investigation, said managing editor Dennis Anderson. No copies of the documents will be made.
The Journal-World has kept the documents in a locked filing cabinet since receiving them, taking them out only to review the contents and to attempt to reach people whose records are included. The documents will be destroyed when reporting of the story is complete.
Copyright 2018 The Lawrence Journal-World. All rights reserved. This material may not be published, broadcast, rewritten or redistributed. We strive to uphold our values for every story published.