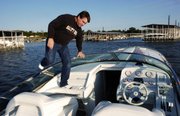 Kirk Keberlein and his 38-foot sports boat spent all summer on Perry Lake.
So it was like a splash of cold water in the face when on Labor Day weekend Keberlein was told that, under a new state law, his boat was too noisy. He was asked to leave the lake and not come back until the boat was quieter.
"Say you bought a new Mustang and you woke up one day and found out that you couldn't drive it down the road anymore," Keberlein said. "Well, that is exactly what has happened here."
Keberlein and dozens of other regular Perry Lake boaters are concerned that a law approved in 2006 - but not enforced until the end of this summer - will force them off Kansas waterways.
The alternative is to spend thousands of dollars to upgrade exhaust systems. And even then, some boaters said, they aren't guaranteed their boats will meet the new noise requirements.
The law is aimed squarely at noise produced from high-speed sport boats and a feature many of them have - the captain's call switch - that makes the engine faster and louder.
"Our senators, legislators, representatives have passed a law that specifically makes certain boats just plain old illegal, no matter how much noise it puts out," Keberlein said.
Too loud
Dan Hesket was the one who proposed and wrote the law. He is assistant director of law enforcement and boating law administrator for the Kansas Department of Wildlife and Parks.
The idea came from 12 years of enforcing laws on state waters and complaints he received in that time. Perry, Cheney and El Dorado lakes produced more noise complaints than any other lakes in the state, he said.
Store manager for Lake Perry Yacht and Marina Mike Stanley is among those who have heard complaints about the loud boats. And he agrees.
"Quite honestly, people were glad to see the law go into effect," Stanley said.
From his home, which is near the lake, he can hear the boats running at night.
For years, Kansas had a law that required all exhaust systems to use water to help muffle the sound. However, that law was somehow discarded when the state updated its regulations in the early 1990s.
About 35 states have some kind of restriction in place. Kansas' law says a boat can't be louder than 86 decibels from a distance of 50 feet. Scientifically, the 86 decibel level is the amount of noise the average factory would make or the sound of city traffic inside a car.
Anecdotally, on Keberlein's boat at dock, the sound of the idling engine is about as loud as a crowded restaurant. A conversation could be carried over it, but raised voices were needed.
But it's another matter as the boat rips across the lake.
During a crisp, clear September evening on Perry Lake with no other boat in sight and going up toward 80 mph, little could be heard over the wind and roaring motor.
Boaters said it's mainly wind that makes the noise, and the boat is no louder at idle than in full throttle.
Keberlein was able to take his boat for a spin that weekend because he was participating in a sanctioned event, which allows the noisier boats to run 24 hours before and after the event.
Enforcing the noise
In reality, Hesket said the state is only going to use the 86 decibel level to determine if boats should be pulled over for testing at closer range. Conducting sound readings from a 50-foot distance is too complicated and could be hard to defend in court, he said.
Instead, officers will issue warnings - and, someday, tickets - based on sound readings taken just three feet from a boat's engine that is at dock and idling. In those circumstances, the boats cannot be louder than 91 decibels, Hesket said.
As for the captain's call feature - which, when enacted, will stop water from going into the exhaust - Hesket said the law prohibits any boats from having them. But, he said, boaters won't be thrown off the lake unless the captain's call feature produces sounds greater than 91 decibels, just like all the other boats.
"We're more concerned about the noise," Hesket said. "We just don't want (boaters) out there blowing people off the water with exhaust noise."
Weekend crackdown
For much of the summer, Ryan Smidt, an officer with the Kansas Department of Wildlife and Parks, had been warning boaters at Perry Lake that enforcement was pending. It began in earnest on Labor Day weekend.
Six boats were found in violation. No one was issued tickets, but they were asked to leave the lake until the boat was in compliance.
Among those found in violations was Rhonda Hamm and her husband. The Perry couple, who started boating eight years ago, immediately listed both of their sport boats for sale, fearing they could no longer use them in Kansas.
"I just don't understand this. We never hurt anyone; we never had an accident," Hamm said.
At the time of passage - in the 2006 Legislature - the law was part of a bill that took four years to craft, Hesket said. And it was mixed among laws that focused on marina theft, whistles on personal watercraft and signals used for when someone fell in the water. The noise restrictions drew little attention and no opposition.
Since the crackdown over Labor Day weekend, hundreds of letters from boaters protesting the new law have been written to government officials throughout the state.
Lee Tafanelli, a state representative who lives in Ozawkie, visits Perry Lake often.
After hearing complaints from boat owners, he thinks a group should be formed to find common ground on the noise issue.
With the boating season in Kansas a few weeks away from ending, Hesket said warnings will continue to be issued next year. And citations will be issued only if boaters return with unfixed mufflers.
"We want it to be a harmonious environment," Hesket.
Copyright 2018 The Lawrence Journal-World. All rights reserved. This material may not be published, broadcast, rewritten or redistributed. We strive to uphold our values for every story published.