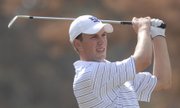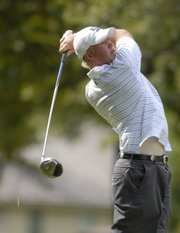 The wind was nobody's friend on this day.
Kansas University's men's golf team, however, was able to overcome the howling obstacle on its home course Monday at the Kansas Invitational.
And because of that, the Jayhawks are in position to go for a four-peat.
KU posted a team score of 590 after 36 holes Monday at Alvamar Golf Club, seizing a five-stroke lead over second-place Kansas State with the final 18 holes scheduled for today.
KU's top four players fired a not-bad 298 in the morning round, then stormed back and shot a 292 in the second 18.
If the Jayhawks hold on to the lead, they'll win the tournament's team title for the fourth straight year.
"I would've taken a 292 and not teed off," KU coach Kit Grove quipped. "It's a pretty good golf course when the wind blows, and it blew all day."
That kept the scores hovering around par. A year ago, former KU standout Gary Woodland was in the driver's seat after shooting 9-under par through the first 36 holes.
There were no scores anywhere near that Monday. This year, Houston's Jordan Irwin is atop the leader board at even-par 144. KU freshman Nate Barbee is one off the lead, firing a first-round 73 and second-round 72 to stand at 1-over. He's tied with Drake's Luke Joy and North Carolina-Wilmington's Will Shambley.
Barbee and his teammates were more familiar than anyone with the Alvamar course, but that advantage was negated somewhat when the high winds made things uncomfortable.
"It was a big factor," Barbee said. "A lot of holes played longer, a lot of holes played shorter. You just had to adjust, especially with your approach shots."
Barbee had the best day among the Jayhawks, but junior Walt Koelbel wasn't far behind. Koelbel was at 7-over after 22 holes, but heated up and fired an impressive 5-under over the last 14.
Koelbel is now just two strokes behind the leader, and his turnaround helped catapult KU's team score from third place to first by the end of the day.
"Walt's starting to really play," Grove said. "He had a rough first round last week (at the Saint Mary's Invitational), and he shot the low round for us the second and third round. We've just got to get some more consistency."
KU freshman Brad Hopfinger fired a 74-75 to stand at 5-over, while junior Andrew Storm recorded a 74-76 and was 6-over.
A shotgun start is scheduled for 8:30 a.m. today to complete the final 18.
Copyright 2018 The Lawrence Journal-World. All rights reserved. This material may not be published, broadcast, rewritten or redistributed. We strive to uphold our values for every story published.