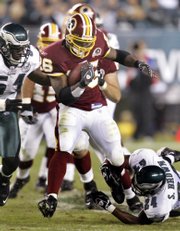 Philadelphia — If Jason Campbell becomes a star in the NFL, he might pinpoint Monday night's victory as the start of something great.
Showing the poise of a veteran, the third-year quarterback in his ninth pro start converted several big plays and got plenty of help from Clinton Portis, Chris Cooley and an opportunistic defense in Washington's 20-12 victory over the Eagles.
The surprising Redskins, coming off a 5-11 season, are 2-0 and tied with Dallas atop the NFC East, which Philadelphia was expected to dominate.
But the Eagles are 0-2 and their offense, other than the dynamic Brian Westbrook, has been far too spotty.
Portis and Cooley each scored touchdowns and Shaun Suisham made two field goals. Washington's defense stymied every Eagle except Westbrook, who rushed for 96 yards and caught eight passes for another 66 yards.
"In the NFL, you can't be one-dimensional, you've got to be able to do both things, you've got to be able to run and pass," Campbell said. "I thought our guys did an outstanding job once we got our rhythm. I thought our guys did an outstanding job picking up the big plays."
Westbrook's work wasn't enough to get Philadelphia into the end zone, however, as an array of blitzes and some hard hitting by the Redskins' secondary kept Donovan McNabb off-balance much of the night.
McNabb has lost six of his last seven starts and is 9-12 since the Eagles lost the Super Bowl to New England in January 2005.
"We didn't win the game, so I didn't play well. If I'm out there, I have to make plays," McNabb said. "We have to find out what we're doing wrong and correct it."
Campbell didn't have gaudy statistics - 16-for-29, 209 yards - but he kept the Redskins on the move when it counted with sharp passes and timely third-down conversions.
"You take advantage of the plays that are given to you and then the others will come," receiver Santana Moss said. "You can't try to make plays that are not there, and he didn't.
"We as an offense can even do a lot more to make him great."
Copyright 2018 The Associated Press. All rights reserved. This material may not be published, broadcast, rewritten or redistributed. We strive to uphold our values for every story published.