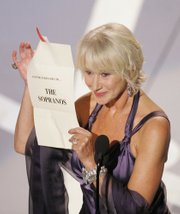 Los Angeles — "The Sopranos" turned its startling cut-to-black final season into Emmy gold Sunday, winning the best drama series award, and newcomer "30 Rock" was named best comedy series.
The mob saga's victory was nearly unprecedented, with only one other drama series, 1977's "Upstairs, Downstairs," having claimed the top trophy after leaving the air.
"In essence, this is a story about a gangster," said "The Sopranos" creator David Chase. "And gangsters are out there taking their kids to college, and taking their kids to school, and putting food on their table.
"And, hell, let's face it, if the world and this nation was run by gangsters" - Chase paused and shrugged, as everyone laughed - "maybe it is."
Freshman "30 Rock," set in the world of a late-night show akin to "Saturday Night Live" and created by "SNL" veteran Tina Fey, could be buoyed by its award. The critically acclaimed comedy has lagged in the ratings.
Fey, who also stars in the series, jokingly thanked "dozens and dozens of viewers."
"Sopranos" stars James Gandolfini and Edie Falco didn't fare as well as their show Sunday.
James Spader was named best drama series actor for "Boston Legal," and talked as if he had pilfered it from fellow nominee Gandolfini.
"Oh my goodness, I feel like I just stole a pile of money from the mob. And they're all sitting over there," Spader said, acknowledging him and the rest of "The Sopranos" cast in the Shrine Auditorium audience.
Sally Field was honored as best actress in a drama for "Brothers & Sisters." Falco was among her competitors.
"How can that be? These wonderful actors," Field said. Clearly flustered, she lost her train of thought at one point, shouting at the audience to stop applauding while she struggled to finish her acceptance speech.
America Ferrera of the campy "Ugly Betty" was named best actress in a comedy series.
"This is such an amazing, wonderful achievement. The award is to be able to get up and go to work tomorrow," Ferrera said.
The biggest laugh of the night was earned by presenters Jon Stewart and Stephen Colbert, after they announced that Ricky Gervais of "Extras" had won the award for best comedy series actor.
"Ricky Gervais could not be here tonight. Instead we're going to give this to our friend, Steve Carell," Stewart said. Carell, a nominee for "The Office," bounded onto stage.
Copyright 2018 The Associated Press. All rights reserved. This material may not be published, broadcast, rewritten or redistributed. We strive to uphold our values for every story published.