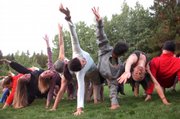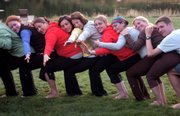 Don't just take a vacation. Change your life. That's the concept resorts are selling to a growing number of people for whom an exotic getaway just isn't enough. The purveyors of yoga and wellness vacations promise more than mere relaxation; they promise transformation.
Ask why someone would choose a yoga vacation - and the meditation, body contortions and discipline that goes with it - and the answer repeats: People go for life-changing experiences.
Three years ago, Tiffanie Archie, a senior project manager at an online financial services firm in Washington, D.C., decided to take a vacation to the Miraval resort outside Tucson, Ariz.
Miraval - in which AOL co-founder Steve Case bought a majority stake in 2005 - aims to take the spa experience into something more spiritual and holistic. For $500 a night including lodging, meals and services, Archie said she found what she was looking for: "An opportunity to go somewhere and be quiet and focus on myself and let the stress melt away for a bit."
Archie, 31, says she returned annually to Miraval for the horseback riding, spa and adventure activities but she didn't try a yoga class until earlier this summer. Hooked, she took a second, monthlong vacation.
Now Archie says her vacation has become about more than de-stressing from work and daily life. It's as much about "finding inner peace."
New trend in industry
From luxury hotel resorts to rustic retreats, yoga offerings and yoga-centric vacations have increasingly become a carrot to lure vacationers that want more than a fabulous place to stay and entertainment. The past five years have seen growth in yoga vacations that is emblematic of a larger trend in the travel industry, says Allen Kay, spokesman for the Travel Industry Association.
"Wellness and fitness fits right into that pattern of an ever-broadening array of niches that the travel industry is catering to," Kay said.
And, like so much in marketing today, it's driven by retiring Baby Boomers concerned about their wellness and with the income to do something about it, he said.
Marketing and research firm Ypartnership said its latest survey of affluent travelers - the top 7 percent of U.S. households, or those that bring in more than $150,000 a year - showed 30 percent of respondents named yoga as their favorite spa program or service. Massage was the most popular with 65 percent.
Yoga vacations come in many incarnations. The high end can range from packages at luxury resorts to all-inclusive vacations to India, Chile, Bali or elsewhere. The spectrum of choices includes more austere retreats that offer the bare bones - more meditation than amenities - and cost much less.
The Feathered Pipe has been offering yoga retreats at its ranches in Montana since 1975. Back then, yoga was little known in this country, said India Supera, co-founder and executive director. The people who came were mostly young and open to the groovy new thing. They stayed three weeks for $500, she said.
Today, the Feathered Pipe still offers mostly weeklong retreats at its Helena and Wolf Creek, Mont., ranches. But now the center also leads luxury yoga vacations abroad. In October, the Feathered Pipe will bring about 30 people on a 10-day, $8,000 trip to a resort in Kerala, India, headlined by popular yoga personalities Rodney Yee and Colleen Saidman.
Supera chalks up the growing interest in yoga vacations to the spread of the yoga practice itself in the U.S.
"People have felt so good from doing yoga - we'll have everybody from rock stars to people who have saved two years for this vacation," she said.
Abundance of choices
As the number of retreats being offered booms, the hard part is figuring out what kind of retreat to choose, said Andrea Ferretti, senior editor of Yoga Journal.
Ferretti suggests first-timers think about where in the world they'd like to go, then ask their local yoga instructor about the teachers at the retreat destination. There are also teachers who will organize and lead their own group trips abroad.
"I think even if you're a beginner and you're really open to the yoga experience, you want to be sure the retreat is geared to you," and isn't too challenging, Ferretti said. "Most of us have never done yoga four hours a day for seven days."
Copyright 2018 The Associated Press. All rights reserved. This material may not be published, broadcast, rewritten or redistributed. We strive to uphold our values for every story published.