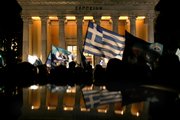 Athens, Greece — Greece's conservative prime minister won re-election Sunday with a diminished majority in parliament after a financial scandal and devastating forest fires that killed more than 65 people last month.
The slimmer majority could make it harder for the government to carry out crucial economic and educational reforms, including overhauling Greece's fractured and debt-ridden pension system.
But the conservatives inflicted a stronger defeat than expected on their rival socialists, who were seen as being in disarray after receiving the lowest number of parliament seats in 30 years.
"Thank you for your trust. You have spoken loud and clear and chosen the course the country will take in the next few years," Prime Minister Costas Karamanlis said as thousands of party supporters thronged the streets of central Athens, honking horns, chanting slogans and waving the blue flags of his New Democracy party.
George Papandreou, the leader of the main opposition socialist party PASOK, conceded defeat.
"The people have chosen and their decision is respected. PASOK fought hard but it did not succeed," Papandreou said. "People sensed that the poor state of public administration, with the scandals and fires, had deeper causes."
The results indicated that New Democracy would win enough seats in the 300-member parliament to form a governing majority after the elections, which were called by Karamanlis six months early.
With 94 percent of the votes counted, New Democracy party was ahead with 42.2 percent, while PASOK had 38.2 percent.
Both parties appeared to have lost some support following the fires and a financial scandal in which state pension funds bought bonds at inflated prices. But PASOK fared the worst. The party looked set to win just 103 seats in parliament - the lowest number it has held since 1977.
"The electorate's message is that we, too, have responsibility for the state of the nation. I ask that we all listen to this message," Papandreou said.
Karamanlis, 51, easily won the last election in 2004, becoming the youngest prime minister in modern Greek history. The country's economy has done well under the conservatives, with robust consumer spending and strong property market. Growth was expected to continue at more than 4 percent this year - one of the fastest growth rates in Europe. Unemployment has also plummeted.
Karamanlis has also enjoyed good relations with the United States, meeting twice with President Bush at the White House in his first 14 months in office. Greece's socialists, meanwhile, have had a more contentious relationship with the U.S. The late Prime Minister Andreas Papandreou, George Papandreou's father and PASOK's founder, was best known for his fiery anti-U.S. rhetoric.
When he called the early election in mid-August, Karamanlis had seemed assured of victory despite widespread anger over the bond scandal.
But a week later, massive fires devastated large parts of southern Greece, leaving his government reeling from accusations of mismanagement and incompetence in its response.
Copyright 2018 The Associated Press. All rights reserved. This material may not be published, broadcast, rewritten or redistributed. We strive to uphold our values for every story published.