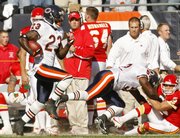 Chicago — Every time he lines up for a return, Devin Hester believes a touchdown is just moments away.
Who can argue?
Hester set the NFL record last season, and he's off to a good start this year.
Hester scored on a 73-yard punt return in the second quarter and set up a field goal in the third with another long return to help the defending NFC champions beat the Kansas City Chiefs, 20-10, on Sunday.
"If there's not one returner who every time he touches the ball feels he can take it the distance, he doesn't need to be out there," Hester said. "I feel every time I get my hands on the ball it's a touchdown."
Hester now has seven touchdown returns in his career and is one shy of Gale Sayers' team record. While Hester moved closer to that mark, Cedric Benson did his part to distance himself from the notion that he's soft.
Benson carried 24 times for 101 yards, eight shy of his career high, after being held to 42 in last week's 14-3 season-opening loss at San Diego.
It was a different story for Rex Grossman.
He was 20-for-34 with 160 yards and a touchdown, but was picked off twice after passing for 145 yards against the Chargers.
The fans let Grossman hear it in the fourth quarter, when Donnie Edwards intercepted him at the 43. The Chiefs (0-2) took over at the 25, but couldn't cut into a 20-10 lead.
Minutes after blocking a 48-yard field goal by Dave Rayner, the Bears came up big again. With the ball on the 16, Charles Tillman deflected a pass intended for Sammie Parker in the end zone and Danieal Manning intercepted it.
The Bears (1-1) hung on from there.
Chicago was able to contain another star running back after shutting down LaDainian Tomlinson. This time, it was Larry Johnson, who managed just 55 yards on 16 attempts.
"We're on the same page, we all get the same play book," Johnson said. "We just have to got out and execute what we have to put points on the board."
Damon Huard wasn't much help, going 19-for-28 with 175 yards for Kansas City (0-2). He had a touchdown pass and an interception and was sacked four times before leaving late in the game for Brodie Croyle. But tight end Tony Gonzalez would not single out the quarterback.
"He's proved he can do it," tight end Tony Gonzalez said of Huard. "He's done it before. I don't understand why we can't do it now. Something is not working right now."
Lance Briggs forced a fumble and sacked Huard for Chicago. Brian Urlacher also got his first sack since 2005, but this was Hester's day.
The Bears were leading 7-0 when he caught Dustin Colquitt's punt at the 27. He cut to his left, sidestepped several Chiefs and got some big blocks on the way to the end zone. Hester set an NFL record with six as a rookie last year, and that doesn't include the opening kickoff he ran back against Indianapolis in the Super Bowl.
His second big punt return was even more impressive, even though he didn't reach the end zone.
Hester caught the ball at midfield and sliced between two Chiefs and ran it back to the 19. That set up a 38-yard field goal by Robbie Gould that made it 20-7.
Hester also had a 95-yard touchdown return negated by a holding penalty late in the third after the Chiefs' Dave Rayner booted a 45-yard field goal to make it 20-10.
It was just what the defending NFC champions needed after that rough opener.
The Bears lost former Pro Bowl safety Mike Brown and starting defensive tackle Dusty Dvoracek to season-ending knee injuries in that game, and they absorbed verbal shots afterward.
One came from Chargers linebacker Shaun Phillips, who called Benson soft. He certainly didn't look that way against Kansas City.
"I really didn't pay much attention to all that soft talk, but just in general - Week 2, coming off a loss in Week 1, 100 yards - it feels good," he said.
An offense that managed just 202 yards in the opener got going late in the first quarter. Benson ran for 41 yards on the Bears' first touchdown drive, setting up Grossman's 2-yard scoring pass to John St. Clair.
Besides Hester's 73-yard return, Gould kicked a 47-yard field goal to make it 17-0 with 2:25 left in the first half. The Chiefs scored just over a minute later, when Huard connected with Dwayne Bowe on a 16-yard touchdown pass to make it 17-7.
For the Chiefs, Johnson simply couldn't find any room to run.
He blamed last week's 43-yard showing against Houston on his contract holdout, saying he was out of shape. But he was no better against a Bears defense that held Tomlinson to 25 yards.
"We have to look at the tape and see what we have to do better in the mistakes that I made or the mistakes that anybody made," he said.
Notes: Benson ran for a career-high 109 yards against Green Bay last Dec. 31. ... Bears punter Brad Maynard missed a game for the first time in his career, ending a streak of 161 consecutive games when he sat out Sunday's game against Kansas City because of a groin injury. ... The Bears signed Dirk Johnson to replace Maynard, and he got hurt late in the third quarter, leaving Gould to punt. ... The Bears held out rookie tight end Greg Olsen for the second straight week because of a sprained left knee. ... The Chiefs were without wide receiver Eddie Kennison, who injured his hamstring on the first play from scrimmage last week against Houston and is expected to miss a few weeks.
Copyright 2018 The Associated Press. All rights reserved. This material may not be published, broadcast, rewritten or redistributed. We strive to uphold our values for every story published.