Audio Slideshow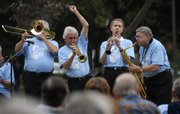 Lawrence's 153rd Birthday
The lively sound of music from another era filled South Park on Sunday as the city celebrated its 153rd birthday. Headlining the celebration was a legendary local jazz group, the Gaslite Gang, which reunited to honor its saxophonist, Clyde Bysom.
Bysom, a longtime Lawrence resident and entertainer who turns 90 next month, said jazz has kept his toes tapping.
"Music has been my life. It's what keeps me alive," he said, as he prepared to take the stage on a day the city dedicated in his honor.
"It's a very nice gesture. I'm thankful I can keep doing this," he said.
The Lawrence City Band also played a set of American standards, which director Bob Foster said he hoped would remind Lawrence residents of the city's long tradition.
"We didn't want people to forget the history of the community," he said.
Concerts such as Sunday's are an important way to preserve the city's culture, he said.
"It's something that's uniquely Lawrence that reflects the community and the heritage of the community."
The Lawrence City Band has been playing in one form or another since shortly after the city's inception, he said. The marching bands from Lawrence High School and Free State High School joined the city band onstage Sunday night.
Barbara Lacks was excited for the event as soon as she unfolded her collapsible chair. She attended concerts at South Park with friends all summer.
"I thoroughly enjoy them," she said. "I love Lawrence, and it's a part of Lawrence."
Bob Lauschman, 84, plays trumpet in the Lawrence City Band. He and his wife, Donna, celebrated her 81st birthday by enjoying the Gaslite Gang's reunion performance. He has played with the city band for 15 years, joining just more than a year after picking up a trumpet for the first time in decades.
He said concerts like this can show youths that music can be a lifelong pursuit. "I hope this can be an inspiration to young people who think it's all over when school is done," he said.
For Bob Lauschman, music has been a lifelong hobby that never wavered, even when his career in sales forced him to give up the trumpet. It's a passion that has remained strong since the Lauschmans moved to Lawrence in 1960.
"It's a very important aspect of living in Lawrence," he said. "It's a very musical town."
The Gaslite Gang's reunion, which was orchestrated by bandleader Paul Gray and Foster, compelled members from across the country to return to Lawrence. They had no time to practice before the show, said Foster, adding that one member arrived just before the band was introduced.
But even if the band was a little rusty, its members brought down the house. Bysom, still energetic at 89, received a rousing ovation as his sax solo penetrated a din of clapping hands.
The Gaslite Gang was back, if only for one night.
Copyright 2018 The Lawrence Journal-World. All rights reserved. This material may not be published, broadcast, rewritten or redistributed. We strive to uphold our values for every story published.