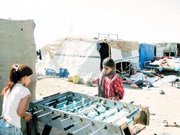 Baghdad — When a friend from the old neighborhood called Abu Ali after sunrise earlier in September to tell him that his house had been destroyed, the middle-aged Sunni confessed to himself that he felt happy.
He turned to his wife in bed and told her that the Americans had flattened their home in the Washash neighborhood and killed some of the Shiite militia members who kicked them out the previous September. They were people he had lived next to for years, people he greeted every day.
People who had killed his teenage son three months ago, leaving him with a bullet hole in his eye and forehead.
"God took our revenge for us," his wife, a Shiite, answered.
He thought about the friend who had called with the news. His name was Sattar, and like the men who killed his son, he was a member of Muqtada al- Sadr's Mahdi Army militia.
He replayed their conversation in his head.
"These are the same men who stole my house and killed my son," Abu Ali, who didn't want his real name used, had blurted in the receiver.
His friend fired back: "What about the women and children who were there?"
"This is God's will," he answered. "They deserved what happened."
The two said goodbye. It was normal for them to talk, and Sattar would call back later with more information about the damage.
The two men had been friends for 10 years, and they were friends still, despite Sattar's alliance with the locals who had forced Abu Ali from his home. Sattar remained loyal because Abu Ali had stood up for him when Sattar's own brothers tried to cheat their sibling of money. Still, Abu Ali thought that his old friend frightened easily and never would help him in times of danger.
Their friendship shows the intimate nature of the war in Iraq - a war in which your enemies are often people you've known much of your life; in which your neighbors are often behind the very crimes committed against you; in which every slight, every injustice is recorded and the desire for vengeance runs deep.
At noon the day his home was destroyed, satellite news channels started broadcasting footage of the gutted block. Only then did his wife start crying. People from Washash claimed innocent civilians had been killed, while the U.S. military said fighters had sprayed gunfire from rooftops. Police put the death toll at 14.
Abu Ali didn't care that the house was gone. He associated it with his dead son, Ali. "Everything is a bad memory," he said.
Until they fled, he had lived on a quiet street in Washash. It was affordable on his salary running a small textile shop that manufactured women's clothing. He even had gotten along well with the Mahdi Army. Some of his neighbors had joined the militia, and he readily paid them a protection fee of $3 per month to guard his district. "It was a good arrangement," he said.
Then, in February 2006, the bombing of the Shiite Al Askari mosque in Samarra changed everything. The militia began targeting Sunnis, and Abu Ali watched as his friends and acquaintances started to vanish.
But Abu Ali thought he was safe. Everyone loved him and his six sons and two daughters. He was confident his neighbors would not betray him. Most of the young men on his street had joined the Mahdi Army, but he had been good to everybody.
But after Samarra, his neighbors were emboldened and wanted his house for their relatives. First Tayseer told Abu Ali's sons in a friendly way it would be better if they left Washash.
Then Tayseer's uncle Hassan visited Abu Ali. He advised him to leave Washash by September and suggested Abu Ali rent his house to him. Abu Ali ignored the deadline. He didn't want to leave his white stucco home, with its evergreen bushes and jasmine vines.
He was determined to wait at least until Hassan was forced to rent another house. He said he hated Hassan, who was in the Mahdi Army, and would rather rent his home to anyone else but him. He never had liked him.
When he was sure Hassan had signed a lease, Abu Ali loaded up his furniture, his sewing machines, television and dining room table and left for Ghazaliyah, where his two sisters lived.
Meanwhile, his son Ali had been hired to work in western Baghdad's Mansour district at a bakery delivering cakes with his Shiite friend Haidar. In June, they had finished a delivery and were on their way back to Mansour when two cars blocked their 1982 Toyota Crown Super Salon. A group of armed men blindfolded them.
They threw Haidar in a car and left him at a roundabout in Washash. Early the next morning, Ali, only 17, was found on the street parallel to the house where he grew up.
After being freed, Haidar fled Baghdad, terrified his kidnappers would seek him out again. But Haidar's uncle told Abu Ali one of the kidnappers had been called Tayseer. Abu Ali became convinced his old neighbors were responsible.
Copyright 2018 The Lawrence Journal-World. All rights reserved. This material may not be published, broadcast, rewritten or redistributed. We strive to uphold our values for every story published.