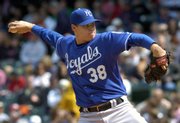 Royals vs White Sox
When: 7:10 tonight
Where: Chicago
Pitchers: Gavin Floyd (1-3) vs. Kyle Davies (6-13)
TV: None
Cleveland — Not only did Billy Buckner earn his first major-league win Sunday, Kansas City's rookie right-hander helped make the AL Central race a little tighter.
Buckner pitched the Royals to a 4-3 victory over the first-place Cleveland Indians, who had their division lead sliced to 41â2 games when Detroit beat Minnesota.
The Indians and Tigers begin a three-game series at Jacobs Field tonight.
Making his third career start, Buckner took a shutout into the sixth inning before Victor Martinez hit a solo homer with two outs. The Indians scored twice in the seventh, but solid relief work by Jimmy Gobble and Joakim Soria over the final 22â3 innings sealed the win.
"It was fun," Buckner said. "I got a little nervous at the end."
Cleveland had a chance to tie it in the ninth, but pinch-runner Josh Barfield was tagged out in a rundown after trying to advance from second to third on Franklin Gutierrez's one-out grounder to shortstop. Soria then struck out Casey Blake to end it.
Since losing the second-base job to Asdrubal Cabrera a month ago, Barfield has been relegated to pinch-running duties. His blunder came at an inopportune time.
"I thought it was up the middle," Barfield said. "I was hoping they'd mess it up. Either way, what can you do?"
Emil Brown went 3-for-4 and drove in two runs for the Royals. All three of his hits came off starter Aaron Laffey (3-2). Brown is 6-for-6 lifetime against the left-hander.
John Buck and Mark Teahen added RBIs for Kansas City, which had lost nine of 10.
Buckner (1-1) gave up one run and five hits in six innings, striking out three and walking one. He was called up from Triple-A Omaha on Aug. 24. Buckner made four big league appearances before Sunday, allowing 10 earned runs and 18 hits in 17 innings.
"It's a confidence thing," he said. "I have been working with Buck on controlling my pitches. I was getting ahead of hitters. If you get behind hitters or even 3-2, you'll give up home runs like I did today."
Buckner allowed at least one baserunner in every inning except the fourth, but kept the Indians off the board until Martinez's home run. Cleveland's best threat before that came in the third when a pair of one-out singles put runners on first and second, but Buckner struck out Cabrera and retired Travis Hafner on a groundout.
"Buckner pitched a good game against us, but I felt like we should have done a better job, and I'm sure our guys think so, too," Indians manager Eric Wedge said. "We didn't take advantage of the opportunities we had."
After Buckner left, John Bale walked Jhonny Peralta in the seventh and gave up a single to pinch-hitter Jason Michaels. Facing Franklin Gutierrez, Brandon Duckworth threw a wild pitch, moving the runners to second and third. Gutierrez's single scored Peralta, and Blake's RBI groundout made it 4-3.
Gobble ended the threat, retiring Grady Sizemore on a fly ball and striking out Cabrera. Gobble retired the first two hitters in the eighth, and Soria got four outs for his 15th save in 19 chances.
Laffey allowed four runs and eight hits in 61â3 innings. After striking out the side in the first - his only strikeouts of the game - he ran into trouble in the second. Billy Butler started the inning with a single and went to third when Alex Gordon doubled. Brown hit an RBI single and Buck had a sacrifice fly.
Kansas City added a run in the sixth. Esteban German singled, stole second and went to third when ball four to Gordon got past Martinez for a wild pitch. When Martinez was slow in getting the ball back to Laffey, Gordon went to second. Brown followed with an RBI infield single, making it 3-0.
Teahen's seventh-inning single drove in Kansas City's fourth run.
Notes: 1B Ryan Garko started for Cleveland after leaving Saturday's game with a bruised middle finger on his right hand. He was hit by a wild throw from Kansas City shortstop Jason Smith. ... Royals DH Mike Sweeney missed his second consecutive game because of a strained right groin.
Copyright 2018 The Associated Press. All rights reserved. This material may not be published, broadcast, rewritten or redistributed. We strive to uphold our values for every story published.