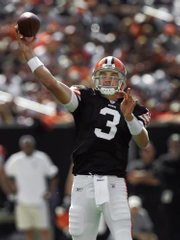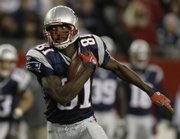 Cleveland — Derek Anderson threw five touchdown passes, Jamal Lewis rushed for 216 yards, and the Cleveland Browns, so desperate after losing their home opener they traded their starting quarterback, outlasted the Cincinnati Bengals and Carson Palmer, 51-45, on Sunday.
Anderson had a breakout game, going 20-of-33 for 328 yards and the five TDs, which tied a team record shared by Frank Ryan, Bill Nelsen, Brian Sipe and Kelly Holcomb.
A week ago, Anderson was backing up Charlie Frye before being brought in during the first half. Two days later, the Browns dealt Frye to Seattle.
Palmer went 33-of-50 for 401 yards and tossed a career-high six TDs, but his final chance to rally the Bengals ended when he was intercepted with 21 seconds left by Leigh Bodden, who made a diving grab near Cleveland's sideline.
It was just the third time in NFL history that two QBs threw five TD passes in the same game.
Packers 35, Giants 13
East Rutherford, N.J. - Brett Favre picked a near-perfect way to become the winningest quarterback in NFL history.
Favre completed his first 14 passes of the second half and threw three touchdown passes to rally Green Bay over Eli Manning and the New York Giants. The victory was the 149th of Favre's 17-year career, giving him one more victory than Hall of Famer John Elway.
Texans 34, Panthers 21
Charlotte, N.C. - With Matt Schaub throwing for 227 yards and two touchdowns and backed up by an effective running game, the Texans forced three turnovers and recovered from a sluggish start to go 2-0 for the first time in franchise history.
Houston went 24-56 in its first five years with David Carr, who was released in the offseason when the Texans traded for Schaub.
Colts 22, Titans 20
Nashville, Tenn. - Peyton Manning threw for 312 yards and a touchdown, and Indianapolis held off Tennessee when its defense stopped Vince Young on a final-drive comeback.
Unlike last December, when Rob Bironas capped a similar comeback with a 60-yard field goal, the Colts collapsed around Young on fourth-and-four. That forced him to lob the ball away in the final seconds.
49ers 17, Rams 16
St. Louis - Former Chief Dante Hall fumbled while catching a punt, and Marcus Hudson recovered for San Francisco, setting up the winning field goal by Joe Nedney.
The Rams' Jeff Wilkins missed a 56-yard field-goal try with 59 seconds to play, the ball falling about a yard short of the goal post.
Buccaneers 31, Saints 14
Tampa, Fla. - Joey Galloway caught four passes for 135 yards and two touchdowns, tormenting the Saints for the sixth straight game between the NFC South rivals and leading the Buccaneers to a victory.
The Saints were embarrassed for the second consecutive week and have been outscored 72-24 after having one of the NFL's most explosive offenses and reaching the NFC championship game last season.
Steelers 26, Bills 3
Pittsburgh - Willie Parker ran for a touchdown and 126 yards, and Ben Roethlisberger threw for a score as the Pittsburgh Steelers controlled the clock and the tempo while pulling away from Buffalo.
Mike Tomlin won his home opener as Steelers' coach, just as Bill Cowher (1992) and Chuck Noll (1969) did before him. Tomlin also matched Cowher by winning his first two games.
Jaguars 13, Falcons 7
Jacksonville, Fla. - The Jaguars sacked Joey Harrington seven times and held Atlanta under 100 yards rushing.
Atlanta's biggest problem came on special teams, where rookie Matt Prater missed two field goals.
His second miss Sunday would have given the Falcons a 10-3 advantage.
Broncos 23, Raiders 20, OT
Denver - Jason Elam's 23-yard field goal with 5:48 left in overtime gave the Broncos a victory just minutes after the Raiders had been celebrating what they thought was their own wild victory
Sebastian Janikowski nailed a 52-yard field goal at 11:13 of overtime. But as the Raiders rushed the field in celebration and the Broncos (2-0) hung their heads in defeat, the officials ruled Denver called a timeout just before the snap. On the retry, Janikowski's kick hit the left upright, giving the Broncos new life and the ball at their 42.
Ravens 20, Jets 13
Baltimore - Kyle Boller threw for 185 yards and two touchdowns, and Baltimore overcame a late charge by Kellen Clemens and the New York Jets in a matchup of backup quarterbacks.
Making his first NFL start, Clemens cut a 20-3 deficit to seven points in the fourth quarter and took the Jets (0-2) to the Baltimore seven before Ray Lewis intercepted a deflected pass in the end zone with 1:04 left to preserve the victory.
Cowboys 37, Dolphins 20
Miami - After winning a shootout in the season opener, Dallas took advantage of five takeaways and a ball-control offense to beat hapless Miami.
The Cowboys intercepted Trent Green four times and recovered a fumbled snap. Green also fumbled attempting a spike play late in the first half, possibly costing Miami points.
Arizona 23, Seattle 20
Glendale, Ariz. - After blowing a 17-0 lead in what looked like another classic Arizona collapse, Darnell Dockett recovered a fumble by Seattle's Matt Hasselbeck. Then, Neil Rackers kicked a 41-yard field goal with one second to go, giving the Cardinals the victory.
Rackers' 52-yarder tied it at 20 with 4:44 to play.
Lions 20, Vikings 17, OT
Detroit - Jason Hanson's 37-yard field goal in overtime lifted Detroit over Minnesota and ended a 10-game losing streak in the series.
The Lions and Vikings combined for nine turnovers in regulation and two missed field-goal attempts in the final 35 seconds.
The 10th turnover - Brooks Bollinger's fumbled snap - gave Detroit the ball at the 50. Jon Kitna, who missed about two quarters after being shaken up, ran the ball twice to pick up a key first down, and Brian Calhoun's 17-yard run set up Hanson's kick.
Patriots 38, Chargers 14
Foxborough, Mass. - Tom Brady threw for 279 yards and three touchdowns and got three TDs from players picked up last spring: Randy Moss with two receptions, and Adalius Thomas with a 65-yard interception return.
The victory came three days after the NFL fined Patriots coach Bill Belichick $500,000, the team another $250,000 and took away what is almost sure to be a first-round draft choice, all for spying.
Moss had eight receptions for 105 yards and 23- and 24-yard TD catches.
Copyright 2018 The Associated Press. All rights reserved. This material may not be published, broadcast, rewritten or redistributed. We strive to uphold our values for every story published.