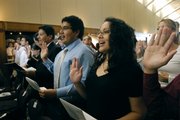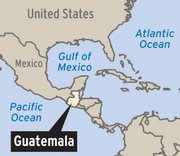 One by one they stood up, heard their names called out and then clearly announced the country from where they'd come.
China.
Mexico.
India.
Guatemala.
And on it went 96 more times Monday morning, at the end of which 30 countries had been named. But that was just the beginning of the end of the journey for the 100 immigrants who became United States citizens in a ceremony at the Dole Institute of Politics on Kansas University's West Campus.
For the Garcia family, it was a journey that began June 10, 1986, when they arrived in the United States after leaving Guatemala with what Hector Garcia described as the holy trinity:
"We had $3,000, three kids and three pieces of luggage," he said.
Not as bad as having just the clothes on their back, but still not much with which to start a new life in the United States.
Hector Garcia was a university professor in Guatemala. Because of a violent civil war and his position in academia, he felt his only option was to pursue asylum in the United States. With his wife and three kids, all under age 8, they moved to Chicago. A few years later, they settled in Kansas City, where Hector went to work for Hallmark Cards.
"It was a very hard adjustment," Hector Garcia said. "We've worked very hard to maintain a standard of living."
Garcia eventually earned a degree at KU, as did his son, Estuardo Garcia, and his daughter Aida Garcia-Franks. It was perhaps fitting then that the three, joined by Olga Garcia, Hector's wife, and Gabby Garcia, his other daughter, became citizens in a ceremony at KU. Olga and Gabby Garcia became citizens a few months ago.
"I think it's very fitting that it all happened here," said Garcia-Franks, who works in the university's Office of Multicultural Affairs. "KU has been a really big part of my life."
Garcia-Franks actually moved to the United States before her family, coming in 1985 with her grandparents.
"On our way here, I remember staying at Best Westerns," she said. "It was a big adjustment. I didn't have my family with me, but also, it was a completely different culture."
The Garcias and the 97 other citizens-to-be filed into the Dole Institute by 8:30 a.m. The ceremony was set to start at 10, but no one seemed the least bit upset to spend 90 minutes waiting.
For many, including Garcia-Franks, this was merely a fraction of the time they'd spent waiting to become citizens.
"It's been a long, hard process," she said. "It's very exciting. It's also a big relief. It's been a long time coming."
The family heard encouragement from KU Chancellor Robert Hemenway, U.S. Rep. Jerry Moran, R-Kan., and John Lungstrum, the chief judge of the federal district court in Kansas who presided over the naturalization ceremony.
"New citizens today follow very much the same road to citizenship as those who came before them over the past two centuries," Lungstrum explained to the standing-room-only crowd. "Through our combined efforts, I believe and trust we can make this an even better country."
Then it was time for the oath of citizenship to be administered, the moment the Garcias had spent 21 years preparing for. All together, they renounced their allegiance to Guatemala and declared their loyalty to the United States. Joining them were the rest of the 100 new American citizens.
More than one person in the crowd paused to wipe away a tear or clear a throat. Moran would later tell the audience that he believed every American should see the ceremony he witnessed.
And with that, it was over. One hundred new American citizens walked out of the Dole Institute doors.
"This makes my mission complete," Hector Garcia said. "It makes me a big, proud papa."
Copyright 2017 The Lawrence Journal-World. All rights reserved. This material may not be published, broadcast, rewritten or redistributed. We strive to uphold our values for every story published.