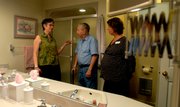 During a ferocious 2005 ice storm, Keith and Virginia Hamm feared setting foot outside their Perry home. They instead met with a slippery situation inside.
Keith fell off two stairs leading into their garage, breaking his leg and shoulder.
"We wanted something glamorous and a nice story to tell, but when you tell someone, 'Oh, I just fell walking down the steps to the garage,' it took the zip out of the story," Virginia said.
After Keith's fall, the Hamms started seeing Jennifer Woerner, an occupational therapist for Lawrence Therapy Services. With Keith now using a cane, Woerner makes in-home visits, teaching the couple to navigate their own home safely.
"The Hamms had really done a fantastic job of thinking ahead and planning a home they could age in," Woerner said.
Twenty years ago, the Hamms were 60 years old and thinking about the future. They retired, then designed and built their own "senior-friendly" home. The house has one level, an open floor plan, wide hallways, bright lighting, walk-in showers and 3-foot-wide doorways - features that accommodate seniors.
Woerner said the Hamms were ahead of the game but needed to make small adjustments like the addition of a railing on the steps where Keith fell.
"Sometimes we'll go into the home because of an injury or fall and work on these things to make the home environment more safe and to help the person become stronger," Woerner said.
The Hamms said aging independently in their own home has improved their overall health. In the six weeks following Keith's fall, he lived in a nursing home, an experience he said he didn't want to relive.
"I've been there and don't like it," Keith said. "You walk half a mile to breakfast, then half a mile to lunch."
"They were wonderful people, but that isn't how we wanted to spend the rest of our lives," Virginia said.
Expanding services
More businesses are offering fall prevention, safety assessments, self-care training and other services to an aging population with the goal of helping them live in their own home longer.
"Society is going to change to respond to the needs of this expanding population, and living in your own home is going to be even more important," said Laura Bennetts, Lawrence Therapy Services co-owner.
She said the company's clients thrive mentally and physically when they live in their own home. When a senior can't be completely independent, she said that often a part-time caretaker or technology can step in and provide the care they need.
"A big issue is people not remembering to take their meds, so there's a lot of electronic possibilities to help people remember to take meds and all kinds of things like that," Bennetts said.
An emerging service is the technology of telemedicine and telemonitoring. The Lawrence Visiting Nurses Association has in the last eight months developed a telemonitoring network.
"What we found is we were able to reduce the number of hospital and ER visits and better use our clinical staff," said Judy Bellome, VNA executive director.
With 25 in-home units, nurses can have a direct, daily link to homebound clients. Patients can monitor weight, blood pressure and chronic diseases from a small computer in their home.
"This (system) is quite simple, and most people are open to this because it allows them some control," Bellome said.
Compared to the alternative of moving into an assisted-living facility or nursing home, Bellome said in-home care services, like theirs, are cost-effective. Right now, the Visiting Nurses offers the telemonitoring system to Medicare patients with an acute need. In August, the Centers for Medicare and Medicaid Services updated the Home Health Prospective Payment System, disbursing an extra $20 million to home health agencies in 2008.
"Instead of not thinking about it because it's overwhelming, it's better to get with people who are trying to help you," Bennetts said.
Bellome and Bennetts said they hope to see a greater partnership forged among organizations, services and businesses that cater to seniors as the aging population grows.
But, Bellome added, seniors also have to think long-term, just as the Hamms have.
"The answer is the dignity of the individual that they can take responsibility for themselves and have independence," Bellome said. "Pride keeps them independent."
Copyright 2017 The Lawrence Journal-World. All rights reserved. This material may not be published, broadcast, rewritten or redistributed. We strive to uphold our values for every story published.