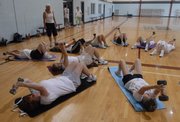 When John Glassman, the executive director of Douglas County Senior Services, starts thinking about what needs to happen to prepare for the aging baby boomers, he references the movie "Pirates of the Caribbean."
It's a line that comes at the end during a scene when Orlando Bloom as Will Turner makes a verbal blunder, doing nothing to stop his love interest and the story's heroine, Keira Knightley as Elizabeth Swann, from returning to her fiance. Up saunters the star of the movie, Johnny Depp as Captain Jack Sparrow, who whispers in Bloom's ear.
"If you were waiting for the opportune moment," the captain says, "that was it."
Glassman said the same line could be said to leaders and organizations in Lawrence on when they should start talking about how to best serve the city's aging.
"This decade is the right moment for this community to begin taking on this issue," Glassman said.
At the top of the list is providing a web of services that will help seniors stay in their homes longer and avoid the move to assisted living facilities or nursing homes.
Those services go beyond what is provided by home health care professionals. It includes lawn care, public transportation, house cleaning, opportunities for seniors to volunteer or interact with their community and neighborhoods where they can easily walk.
"The challenge for our community is to become more of an elder-friendly community," said Jocelyn Lyons of the Jayhawk Area Agency on Aging Inc.
Some senior needs can be met through the private sector, but others - such as public transit, ambulance services and group recreation - have traditionally been provided through government agencies.
Public transportation is among those services that could see the most strain if Lawrence sees a boom in seniors.
Studies show that as seniors age, they tend to drive less and in shorter distances, Lawrence Public Transit Administrator Cliff Galante said.
Also with age comes declining health. For Galante, an aging senior population means more demand for the city's paratransit bus service. Unlike the regular bus system with fixed routes and constant stops, paratransit is for the disabled and picks up and drops off people at their doorsteps.
Per passenger, it's more expensive and timely to operate than a fixed-route system. As more people age, questions on how to fund the paratransit portion of the city's public transit system are only going to continue.
"When you bring in retirees, retirees also require certain services. One of those services is certainly transportation. If we are not prepared as a community to step up to the plate to handle that, then we might want to think about how we go after the market," Galante said.
Not only paratransit services could see a change. Baby boomers grew up with the advent of the highway system and are accustomed to having a mobility and independence far greater than their parents, Galante said.
"This is not a generation that is satisfied with leaving the house once or twice a week to do something," Galante said.
Seniors also want walkable communities, Lyons said. Not only does a simple-to-navigate sidewalk and pathway system make it easier to get around, but it also promotes healthier living.
More seniors could generate more ambulance calls. Even now, Lawrence-Douglas County Fire & Medical Chief Mark Bradford said, the city makes quite a few trips to nursing homes to take patients to and from the hospital.
As the aging population grows, Bradford said nonemergency ambulance rides - a kind of high-end medical taxi service - could develop into a "full-time business."
Overseeing Douglas County Senior Services, Glassman said he wants some day to build an expanded adult day care facility - one that provides medical care. He also thinks more education and awareness should be done on elder abuse.
Spending their free time
As baby boomers age, don't expect to see them playing bridge and bingo.
Take the Lawrence Parks and Recreation Department's popular offerings for the 65 and older crowd. They include water aerobics, strength training, dance classes, day trips and golf.
In the past few years, the department has been beefing up its programs for seniors and the baby boomers.
"We started thinking about this a long time ago. We knew this time was coming," interim director Ernie Shaw said.
One word of advice from Shaw: baby boomers don't want anything to do with the word senior. Instead, they join classes identified as part of lifelong recreation programs. They also want to be part of what the younger generations are doing - Zumba, spinning classes and pilates - only at their own speed.
"We are seeing more people wanting more things that they can interact with and get involved with closer to home, and a lot of that is because of the economy," Shaw said.
For now, Shaw said, programing for retirees fits nicely into the city's recreation schedule. They can take classes during the workday, leaving the facilities open for the younger users after school and on the weekends. And participants' fees usually cover the cost of the class.
Retirees also want to do some good with their free time. With Jayhawk Area Agency on Aging, Lyons said, that means communities need to start creating more volunteer opportunities.
The baby boomers are going to want to volunteer, but with more flexible hours and with projects that extend to management-type issues.
"There needs to be civic engagement available for the boomers," Lyons said.
A place to live
According to a panel of local Realtors, affordable retiree housing is one of the most important factors to bringing baby boomers to Lawrence.
"To me, the No. 1 thing for that population is affordable housing because they are working on a fixed income," Century 21 Realtor Cheryl Baldwin said.
When Hedges Real Estate Realtor Lisa Ramler took her daughter on a tour of Midwest colleges, she instinctively looked at what housing prices were. She found that other college towns - in Kansas, Oklahoma, Iowa and Missouri - had homes $20,000 to $30,000 cheaper than what were selling in Lawrence.
While affordable housing is needed, it also has to be the right kind of home.
Many of those aging are looking to move into smaller homes and own property that require less maintenance.
"We want more free time to do the fun things and a whole lot less time in our yards and our homes," Ramler said. "The trend in society is to actually downsize to a little bit nicer quality things, but to actually have a house (with less) to take care of."
To go along with cheaper housing, Coldwell Banker Realtor Mary Jones said more home-care services need to be available. Finding affordable workers for painting, lawn care and house cleaning can be tough, she said.
"We need the one that will put the screen door on or paint the wall and not charge you an arm and a leg," Jones said.
Ken Ollila, a Realtor with Lawrence Realty Associates, said that Lawrence also could use more grocery stores, convenience stores, gas stations and pharmacies, especially in the areas where the town is likely to grow.
"There is a lot of commercial that needs to happen to sustain the people who are maybe coming in," Ollila said.
Copyright 2017 The Lawrence Journal-World. All rights reserved. This material may not be published, broadcast, rewritten or redistributed. We strive to uphold our values for every story published.