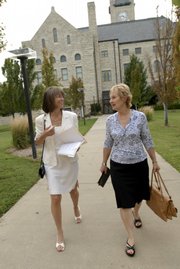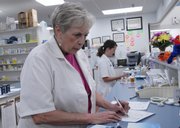 Related document

When Generations Collide ( .PPT )
Sammie Conder recalls being plenty ready to retire, but in no condition to stop working.
Now, nearly six years after leaving the state's full-time payroll for a part-time post at the Douglas County Courthouse, Conder couldn't imagine things having worked out any better.
She's still employed - only this time under her own terms, making a difference in a field she's familiar with and alongside professionals and other dedicated individuals who share a passion for their work.
"I still had something to give," said Conder, supervisor of volunteers for Court Appointed Special Advocates, which works on behalf of children whose families are caught up in the court system. "I had some skills and some strengths that I still felt I could make a difference in my profession."
Conder, born at the beginning of the baby boom following World War II, is straddling a confluence of trends that already is affecting job totals, work relationships and productivity results in today's offices, factories and other workplaces.
The 60-year-old just happens to be an energetic, aging employee in the midst of a community with a sizable fountain of youth: thousands of students at Kansas and Haskell Indian Nations universities, who come to town each year eager to live, learn and work.
Generations next
That the generation gap widens with each passing year is reason for optimism and cause for concern, said Jana Dobbs, community bank president at Corner Bank in Lawrence.
"We have more generations in the workplace than we've ever had before," said Dobbs, who recently conducted a Lawrence Chamber of Commerce workshop on age differences among employees. "We're seeing the largest portion of people in their 70s and above continue to stay in the work force. That is something that will not be going away."
First, the optimism: Many of today's youngest workers are "millennials," born after 1981. They're part of a demographic whose teen pregnancy rates are down, don't like alcohol as much as their immediate predecessors and tend to gravitate toward public service as a noble and important responsibility.
Sounds kind of like the steadfast, focused folks born before World War II and who today are revered as part of "The Greatest Generation," doesn't it?
"For whatever reason, they're speaking the same language," said Dobbs, who studied such generational issues for an American Bankers Association paper.
Workers with major age differences - say, a millennial teller and a "traditionalist" member of the board of directors - start with plenty of common ground when it comes to values, Dobbs said. And that leads to a shift of common roles: young employees actually end up "reverse mentoring" their older co-workers, by helping them learn the capabilities of a computer program, the features of a cell phone, the value of text messaging and how to reach their friends and fellow youngsters through marketing efforts.
Experienced workers - many of whom may have worked at a single company for decades - pass along their institutional knowledge to a receptive audience, or at least youngsters who understand the value of learning the company's history, picking up solid contacts or maintaining bonds with valued customers.
"You get the best of both worlds with this relationship, because they have so much to teach each other," Dobbs said. "You know how fashions seem to recycle every 20 or 30 years - how they come back? We're seeing the same thing with the millennial generation, with their morays and values matching those of the traditionalists."
Now for the concern.
Competitive differences
Wedged in between the young and old is the bulk of today's work force: the not-so-old baby boomers, and the not-quite-so-young members of Generation X. And like parents and their children, the two sides don't always get along.
Generally speaking, Dobbs said, baby boomers are career-minded workaholics who struggle to survive and thrive. It's no wonder, considering that their biggest competition came from within: legions of job-eligible people who, like themselves, were born from 1946 to 1964.
"They faced really stiff competition for jobs," and that shaped their approach to work, Dobbs said. "They essentially created the 60-hour workweek."
Contrast that with Gen-Xers, who were born from 1965 to 1980 and may as well have come from a different planet. While sharing the same drive for economic achievement as their elders, Gen-Xers generally don't stand for staying late at work. Or mind leaving one employer for another, if it means getting ahead. Or taking a less formal approach to getting the job done.
This can rankle boomers.
"These Gen-Xers are putting more of a balance on home life, on family life, and are advancing in their careers anyway," Dobbs said. "There's a little resentment from the baby boomers, that 'Hey, you're not paying your dues like I did.'"
The generations gap doesn't look to close anytime soon. AARP has conducted surveys indicating that at least 70 percent of boomers plan to continue working in some way during their retirement years. And younger workers certainly are working their way up.
Working together
Employers, managers and co-workers alike should take care to make the most of the age-diverse workplace, Dobbs said, by embracing the strengths of each generation on the job:
¢ Time-tested lessons that can be learned from traditionalists.
¢ The ability to navigate politics at work, characteristic of baby boomers.
¢ Multitasking abilities shown by Gen-Xers.
¢ Technological adeptness and the embrace of reverse-mentoring offered by millennials.
Conder sees the differences while working her 20 hours a week at the County Courthouse, training volunteers who range in age and experience from pre-law students at KU to licensed social workers, retired teachers and others who tilt toward the older edge of the scale.
Conder, herself, straddles the line. She's traditional enough to have worked full-time for just two employers, both in state government: the state's juvenile detention facility in Topeka, and Social and Rehabilitation Services in Pittsburg.
She also stays young by trying new things: Reading books, taking strength-training classes and helping friends decorate their homes, all using the 20 hours a week that she's no longer working.
Her state pension covering the basics, Conder uses her modest CASA wages to learn, have fun and relax.
Quite a retirement.
"It's flexibility," she said. "I have a lot of flexibility. I'm able to indulge in some hobbies and interests without being tied down full-time."
Copyright 2018 The Lawrence Journal-World. All rights reserved. This material may not be published, broadcast, rewritten or redistributed. We strive to uphold our values for every story published.