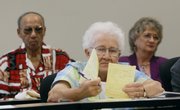 Baby boomers are a well-educated bunch. They likely will retire in an area that offers learning opportunities and allows them to put their education to use.
As home to Kansas University, Lawrence appears to be a prime spot for such retirees.
"You are going to have people looking for places where there is the potential for educational activities," said Linda Redford, director of the Central Plains Geriatric Education Center at KU's Med Center. "It certainly is going to behoove the university to look at creative ways to offer ongoing education for people as they go into retirement."
Tom Wetzel, president of the Retirement Living Information Center Inc., agrees. He said baby boomers are looking to retire in college towns because they want to continue to learn and enrich their lives. The Redding, Conn.-based center provides resources for retirees, and it has done 210 in-depth reports on retirement destinations in 31 states.
Lawrence, along with Manhattan (Kansas State University) and Wichita (Wichita State University), are listed on the center's Web site as among 94 "Great College Towns for Retirement."
KU was selected by the Bernard Osher Foundation of San Francisco to become a member of the Osher Lifelong Learning Institute in 2004, and it is the only member in Kansas. KU's learning institute offers classes to those age 55 and older in Lawrence, Topeka and Kansas City.
"These are purely for self-enrichment, and they are fun," said Jim Peters, director of marketing and communications for Continuing Education.
Range of courses
Peters said KU offers an array of subjects from religion to art and history to science.
"You name it, and we offer courses in it," he said.
There are 24 classes offered this fall - some of them are "Charlie Chaplin: Cinema's First Genius," "Geologic Aspects of Natural Disasters" and "Game Faces: Kansans in Sports." They are generally six-hour classes held over a three-week period for two hours at a time.
"We give them a little more palatable chunk of education," Marvin Hunt, director of KU's Osher Lifelong Learning Institute, said in comparing the institute's courses with regular college courses, which generally meet over a 16-week period.
Hunt also said the classes are affordable. The rates are $35 for a single class, $55 for two classes, $70 for three classes, $80 for a semester of unlimited classes and $180 for a year of unlimited classes. Those who sign up for classes become members of the Lifelong Learning Institute and receive discounts to Lied Center performances and Lawrence Arts Center classes. They also receive access to KU library services and computer workshops. Typical class sizes range between 30 and 40 people.
'Wonderful classes'
Lawrence resident Bob Duver said he and his wife, Lee Ann, had taken several Osher classes since signing up for annual memberships last year.
"What these classes do for us is they open doorways that we can pursue further," he said.
The classes have broadened their horizons.
"My wife and I really have no music background. Nor were we particularly interested in jazz," he said. That was until they took "How to Listen to and Understand Great Jazz."
The class took them to various jazz venues in Kansas City, and their teacher, Todd Wilkinson, would get up on stage with bands and play his saxophone.
Some of the teachers are retirees themselves.
"We are taking great advantage of it because people in retirement are teaching for us and volunteering to help and participate with the institute," Hunt said. "We are using emeritus professors, and there's just a lot of interest in people running discussion groups on different literature and things like that."
Increasing membership
The Institute will need those resources as its membership continues to grow. During its first semester in fall 2005, it had about 200 members. Membership is now about 500.
For those who want to take semester-long classes at KU, the tuition is waived for those age 60 and older. Seniors just need to pay a $30 admission fee. The courses are recorded on their academic record with a grade of "not evaluated."
Cindy Derritt, KU registrar, said that class availability can be limited because seniors pick their classes after other students.
Last spring, nine seniors took advantage of the free classes. Numbers aren't yet available for the fall semester.
Copyright 2018 The Lawrence Journal-World. All rights reserved. This material may not be published, broadcast, rewritten or redistributed. We strive to uphold our values for every story published.