Photo Gallery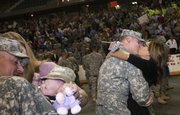 Soldiers Return from Iraq
About 220 Kansas National Guard soldiers are welcomed at the Kansas Expocentre in Topeka.
Topeka — Sitting in the front row and waving a sign that read "I love you Matty J," Cherry Jordon was eager to see her husband, Capt. Matthew Jordon.
The 29-year-old was returning from a year in Iraq.
"I am super excited," Cherry Jordon, a Lawrence school district administrative assistant, said Friday morning as she waited along with about 2,000 others in the Topeka Expocentre where 220 Kansas National Guard members were welcomed home.
The soldiers are members of the 1st Battalion, 108th Aviation Regiment and were deployed in April 2006 to Fort Hood, Texas. The unit left for Iraq last September. Its mission was battlefield circulation of troops and supplies, combat air assault and transporting dignitaries. All members returned home safely.
Besides Jordon, other Lawrence-area members are Chief Warrant Officer Timothy Brundage, Lawrence; Chief Warrant Officer Armon Pollack, Baldwin City; and Specialist Brent Schmidt, Eudora.
As they entered the Expocentre, the crowd applauded, shouted and waved American flags. The family of Sgt. Russ Cote, Meriden, wore neon green T-shirts that said "Deployment Survivors."
"Thank you for your service. Thank you for your sacrifice," Gov. Kathleen Sebelius said. "Welcome home. We need you."
The unit brought back 15 UH-60 helicopters that will help improve the state's ability to respond to disasters.
Battalion commander Col. Alan Soldan said he was proud of his soldiers. The 108th was the only battalion in the brigade to complete all premobilization training tasks at Fort Hood. Other units had to continue training en route and when they got to Iraq.
"They set the stage at Fort Hood for a successful tour in Iraq," Soldan said.
As soon as the soldiers were dismissed, Cherry Jordon sprinted to her husband and kissed him.
"It feels great to be back home," he said. Capt. Jordon will have about a month to relax before returning to work with the National Guard. Besides spending time with his wife, he plans to play golf and watch football.
Coming home just a few days after Sept. 11, a day he won't forget, reminds him of why he serves his country.
"Every time 9/11 rolls around, I always remember where I was and think about what we are doing here is our job and we need to stick to it and keep doing what we are doing," he said.
Copyright 2018 The Lawrence Journal-World. All rights reserved. This material may not be published, broadcast, rewritten or redistributed. We strive to uphold our values for every story published.