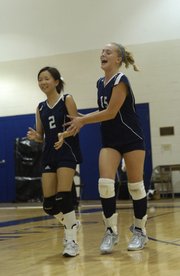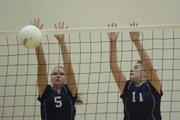 Seabury Academy's volleyball squad had a season-first in its home quadrangular on Thursday: It won a game.
But the Seahawks dropped the next two games in their match against Flint Hills Christian and lost, 22-25, 25-18, 25-19.
"They missed four serves in a row in the middle part of game two, and we didn't take advantage of it, and that kills you," Seabury volleyball coach Craig Friedrichsen said. "Then the third game we just could not get anything going."
The quad got harder for Seabury, as it was swept, 25-19, 25-12, by Heritage Christian and by Leavenworth Immaculata, 25-4, 25-8.
"It gets frustrating, but I think that if we work really hard, then it's not as bad when we're losing," Seabury sophomore Calli Noller said. "If we just play well and play with all of our heart, then it's still fun."
It seemed like the Seahawks' serving problems may have been clearing up after accumulating eight aces against Flint Hills. But in their next two matches, they had just three against Heritage and had no aces against Immaculata.
"The other teams start picking up all of our balls," said Noller, who accounted for six aces against Flint Hills. "So we're just practicing our serves and serving it harder."
Immaculata, on the other hand, showed no mercy from the service line against the Seahawks.
"They were what I was afraid they were going to be," Friedrichsen said. "They've been a good team for a long time."
In Seabury's final match of the quad, Immaculata served 14 aces - nine coming in game two - while also delivering 12 kills.
"That's the problem that we've got in so many of our matches: We're giving up points too quickly," the Seabury coach said. "If you're going to give up a point, let's make the other team work for it. But instead, 14 aces out of 50 points, you can't win. You can't do that, and that's something that we really have to learn."
Seabury will cap off a busy week on Saturday at the Hartford Invitational.
Copyright 2018 The Lawrence Journal-World. All rights reserved. This material may not be published, broadcast, rewritten or redistributed. We strive to uphold our values for every story published.