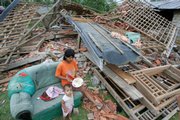 Padang, Indonesia — The ground shook so hard Yulinar had to grab a table to steady herself. Minutes later, she heard a warning crackling over the speakers of the neighborhood mosque - a tsunami could crash into her fishing village on Indonesia's Sumatra island at any minute.
But despite the intensity of the shallow undersea earthquake, no waves lashed the beach and the family shack was undamaged. A quirk of nature sent the full force of the tsunami out to sea, preventing a repeat of the 2004 Indian Ocean disaster that killed more than 230,000 people - most of them on Sumatra.
"We heard the mayor's voice and then ran up a hill," said Yulinar, a mother of five, of the 8.4-magnitude quake that shook Indonesia on Wednesday. "It was very bad. I was so scared a tsunami was coming."
A series of powerful earthquakes and aftershocks followed over a 24-hour period Wednesday and Thursday, damaging hundreds of homes, mosques and schools, and unleashing a 10-foot-high tsunami. At least 13 people were killed and 50 others injured.
But the huge mass of water spawned by the initial 8.4-magnitude quake was pushed to sea rather than land, said Mike Turnbull, a seismologist at Australia's Central Queensland University.
"It could have quite easily have been the other way," he said, noting that pressure between the shifting Australian-Indian and Asian plates has been building up over hundreds of thousands of years and was ready to explode. "It's a quirk of nature that this is how it happened."
Although the 10-foot-high tsunami slammed into at least one fishing village on Sumatra on Wednesday, damage overall was "minimal," Indonesian President Susilo Bambang Yudhoyono said after the Air Force conducted an aerial survey.
A nine-member U.N. assessment team reached the same conclusion after visiting the area, saying that a major international relief operation was not required, John Holmes, the U.N.'s emergency relief coordinator, said in a statement from New York.
That did little to diminish the horror, however, felt by residents in Muara Maras when they saw the ocean retreat and then race back to shore.
"I heard people screaming and yelling, 'Tsunami! tsunami!'" said Rukhlan, a 43-year-old fisherman. "I ran to find my children, but they had already gone to the hills."
A 65-year-old woman, Asiah, felt weak when the earth started moving beneath her.
"I was having difficulty breathing or walking," she said. "I was afraid. My son grabbed hold of me and carried me out of the house. All I could do was pray."
A dozen houses were swept out to sea. Smaller waves were recorded farther down the coast.
Two other powerful temblors - magnitudes 7.8 and 7.1 - followed on Thursday off Sumatra and two weaker quakes were felt later, the U.S. Geological Survey said. Several tsunami warnings were issued and later lifted.
More than 30 aftershocks have rattled the region in the last day and many people refused to return to their homes, fearing a repeat of the 2004 tsunami. Nearly two-thirds of the deaths in that disaster were in Aceh province.
Copyright 2018 The Associated Press. All rights reserved. This material may not be published, broadcast, rewritten or redistributed. We strive to uphold our values for every story published.