Photo Gallery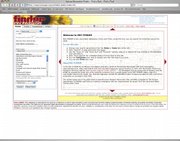 Re-finder
Recreating in Kansas just got a lot easier.
Or, to be more accurate, finding places to recreate in Kansas just got easier.
Rec-Finder - a collaborative venture of a whole alphabet soup's worth of agencies and associations - went online about three weeks ago. It provides a searchable database of more than 450 trails, 3,500 parks and 12,500 recreation amenities across the state available for outdoors recreation.
Everything from adventure sports in Abbyville to zoos in Zelda is there.
"Certainly we hope it would be very beneficial to a visitor not familiar with the area," said Sid Stevenson, a Kansas State University professor and Rec-Finder's project coordinator. "But even a local person can find it beneficial. Trails, for example. Anyone in Lawrence, for instance, might be surprised how many trails there are within 20 miles of Lawrence. You might know half of them but have no idea about the rest. It give people options.
"But I really see : we'd like to get it, at some point, where you'd see a visitor coming into, say, the Holidome in Lawrence and going to a kiosk: Hey, what's available here."
What is it?
Simply put, Rec-Finder is a searchable database of all public - and a few private - outdoor recreation facilities in the state.
Every park, trail, campground, swimming pool and golf course is included.
Users can sort by city or activity.
A disc golfer can learn there are 37 disc golf courses in the state, or a visitor to Lawrence can choose to picnic at one of the 62 city parks.
Clicking on each entry give the user detailed information about each venue and provides a map.
The map screen is customizable to reduce clutter for printing.
And there's a separate search for trails. Users can search by trail name, difficulty, location or type of use.
"As I tried to get information of trails, I had to go to 10 different places," Stevenson said. "This site might have horse trails. This site might have mountain-bike trails. Most of them were findable, but it was real lengthy in terms of the search process. This puts all the information in one place."
Stevenson says the trails search has room to evolve, too.
"We have almost all the trails in there," he said. "At some point in the future, it'd be nice, when you call up a particular trail, it'd be nice to click on a hyperlink that takes you to the agency for more information."
Rec-Finder is born
About five years ago, Stevenson was under contract with the Kansas Department of Wildlife and Parks to help complete the state's comprehensive outdoor recreation plan.
Municipalities are required to provide information about facilities in order to be eligible for federal funds.
Stevenson found the inventory portion of that plan tended to be "very general."
He thought working with GIS - or a geographic information system - would provide a more accurate inventory.
Working with DASC - the Data Access Support Center - Kansas Geological Survey at Kansas University - Stevenson established a way for the people affiliated with the outdoor recreation facilities to enter their information easily online.
"If you live in a very small town in western Kansas, you don't have to know GIS," Stevenson said. "You could go online. Thanks to DASC, we had the program set up for people to set up places for their parks and facilities. They could get online without any software experience. It's not very exciting, but that's what made it doable."
At that point, however, the project still was a tool for the state outdoor recreation plan.
"It was great for a statewide database. It was great for planning stuff once you had that information," Stevenson said. "But I thought it wouldn't take much more to make it user-friendly, so Joe Citizen could go on and find where all the swimming pools are. How to make it available to the public is what we've spent the last two years on."
Rec-Finder goes online
Bringing Rec-Finder to Joe Citizen was a collaborative effort of the Kansas Recreation and Park Association, the Sunflower Foundation, the Kansas Department of Wildlife and Parks, DASC, K-State's department of horticulture forestry and recreation resources and parks and rec professionals and other city and school-district staff members statewide.
It still is a work in progress.
Though the site is functional now, Stevenson said, DASC plans a mapping upgrade soon.
"When we get the new mapping part," he said, "I'll be real happy."
Rec-Finder includes only a few private facilities. Golf courses are an example.
"There might occasionally be a private facility on there if it's available to the public," Stevenson said. "For example, golf courses. We included all golf courses. We didn't want to leave one out just because it's a country club. We figured the title would let you know you might not be able to play there.
"Tourist attractions might be recreational sites. If they're more of a commercial nature, some historic sites might not be on there."
And forget about indoor recreational facilities. For now.
"Our basis is outdoor recreation," Stevenson said. "Lawrence might have three or four recreation centers, but they're not included. We were concerned with the state's comprehensive outdoor recreation plan, and we tried to stay within that parameter. But from a user standpoint, it might be nice to be able to find indoor facilities, too. It wouldn't be that hard to add."
Schools offer many outdoor facilities, and they'll be added over the next two years. And Rec-Finder eventually will map entire park boundaries, rather than display them as points.
But Stevenson has been surprised at how accurate the project has turned out to be.
"I really haven't gotten a lot of calls yet," he said. "A few from smaller towns that fall through the cracks somewhat. Sometimes somebody will say, 'We changed the name of that park,' or, 'You left off a ballfield.' But it's really easy to correct and update."
Copyright 2018 The Lawrence Journal-World. All rights reserved. This material may not be published, broadcast, rewritten or redistributed. We strive to uphold our values for every story published.