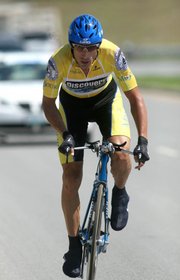 Branson, Mo. — Levi Leipheimer rode to a dominating individual time trial stage 3 win Thursday in the Tour of Missouri, while teammate George Hincapie extended his overall race lead.
Leipheimer, who rides for the Discovery Channel team and was the third-place finisher in this year's Tour de France, completed the 18-mile hilly time trial in 39 minutes and 37 seconds.
"I would call them middle climbs with a lot of rollers," said Leipheimer, who won 19th stage of the Tour de France this year, the race's final time trial. "It took a different kind of rhythm."
Nathan O'Neill, (Health Net), an Australian national time trial title winner, finished second in 39:53. Matti Helminen (DFL-Cycling News) of Finland was third in 41:04.
Hincapie of Greenville, S.C., who began the day with a four-second race lead over Dominique Rollin (Kodak-Gallery/Sierra Nevada) of Canada, placed sixth in the third stage, 2:07 behind.
With three stages of the inaugural Tour of Missouri remaining, Hincapie leads William Frischkorn (Team Slipstream) of Boulder, Colo., by 1:40. David Canada (Prodir-Saunier Duval) of Spain is third, trailing by 2:22.
Helminen, the seventh of 112 starters during Thursday's time trial, set the early best time, and it remained the quickest effort for nearly two hours.
O'Neill then moved into the lead, followed by Leipheimer, who began 17 riders later.
"I had to punch it on all the middle climbs and then recover on the downhills," said Leipheimer, who won the Tour of California in February. "I didn't feel that strong. It was OK."
Alberto Contador (Discovery Channel) of Spain, the reigning Tour de France titlist, placed 10th in the stage, trailing Leipheimer by 2:57.
The 562.2-mile, six-day race continues Friday with the race's longest stage, the 133-mile road race from Lebanon to Columbia. The event concludes Sunday with a 74-mile circuit race Sunday in St. Louis.
Copyright 2018 The Associated Press. All rights reserved. This material may not be published, broadcast, rewritten or redistributed. We strive to uphold our values for every story published.