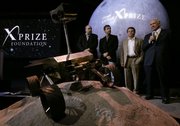 Los Angeles — Google Inc. is bankrolling a $30 million contest that could significantly boost the commercial space industry and spur the first nongovernmental flight to the moon.
Call it Moon 2.0. The bulk of the prize will go to the first private company that can land a robotic rover on the moon and beam back a gigabyte of images and video to Earth, the Internet search leader said Thursday.
Google partnered with the X Prize Foundation for the moon challenge, which is open to companies around the world. The Santa Monica-based nonprofit prize institute is best known for hosting the Ansari X Prize contest, which led to the first manned private spaceflight in 2004.
The Google Lunar X Prize joins another prize already dangling in front of potential competitors: $50 million that hotel magnate Robert Bigelow is offering the first private American team to rocket a manned craft into orbit by 2010.
The race to the moon won't be easy or cheap. But whoever fills the requirements in the Google contest by the end of 2012 gets $20 million.
The winning spacecraft must be tough enough to survive a landing and be equipped with high-definition video and still cameras. And it must be smart enough to trek at least 1,312 feet on the moon and send self portraits, panoramic views and near-real-time videos back to Earth that will be streamed on Google's Web site.
"I hope that a ... very ambitious team of people will allow us all to virtually go back to the moon very soon. I couldn't be more excited about that," Google co-founder Larry Page said at WIRED magazine's technology show in Los Angeles.
Participants must secure a launch vehicle for the probe, either by building it themselves or contracting with an existing private rocket company. Private rocket company Space X said it will subsidize use of its launch vehicle to interested competitors. The company, led by PayPal co-founder Elon Musk, has not had a fully successful launch in two tries.
If there is no winner, the purse will drop to $15 million until the end of 2014, when the contest expires. There is also a $5 million second-place prize and $5 million in bonus money to teams that go beyond the minimum requirements.
Copyright 2018 The Associated Press. All rights reserved. This material may not be published, broadcast, rewritten or redistributed. We strive to uphold our values for every story published.