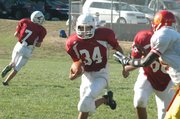 It could have been a momentum-killer.
In the first quarter of Central Junior High's home football contest against Atchison, Mustang running back Nate Davis ripped off a 40-yard touchdown run. The celebration was cut short as a holding call brought the ball back. Atchison took the ball on the next series and promptly scored eight points.
Central seemed to have all its energy drained and a long game ahead. But the players saw things differently.
The Mustangs ran off 22 straight points to take down Atchison, 22-8.
"That was a big turning point," Central head coach Scott Petry said of the nullified touchdown. "But those kids didn't give up. They (Atchison) even fumbled the two-point conversion and ended up running it in. Things didn't look very good."
Atchison held its lead until late in the second quarter when Central (1-2) established its running game and brought the ball to the visitors' goal line.
Davis then got his touchdown back from a yard out to cut the lead to 8-6.
The freshman running back took his show into the third quarter as he turned the corner for a 50-yard run all the way to the Atchison goal line.
Fullback Tyler Frazier finished the job with another short touchdown run. Davis added a two-point conversion to give Central a 14-8 lead.
After the go-ahead touchdown, what seemed to have happened to the Mustangs in the first quarter may have gotten the better of the visitors in third.
"They (Atchison) ran out of steam, I think," Petry said. "We played as good as we have all season, and I think maybe it took its toll on them."
With the ground game firmly established, the Mustangs changed things up for their final touchdown.
Quarterback Jake Brown found receiver Evan Robinson for 20 yards and a first-and-goal situation. Davis came in to finish the game off with his second rushing touchdown. Robinson got a measure of redemption as he hauled in the two-point try to give the Mustangs their winning margin.
After dropping the first two games, Petry was pleased.
"We played as well as we have all year," Petry said. "They gave everything from the first whistle until the clock ran out."
Central will play Monday at Oregon Trail.
Copyright 2018 The Lawrence Journal-World. All rights reserved. This material may not be published, broadcast, rewritten or redistributed. We strive to uphold our values for every story published.