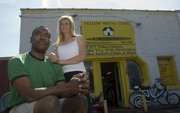 The owners of Yellow House Quality Appliance Inc. face new federal indictments that allege the couple sold stolen goods.
Carrie M. Neighbors, 46, and her husband, Guy Madison Neighbors, 48, are accused of knowingly purchasing stolen goods and reselling them. Some of the transactions were conducted on eBay, federal authorities allege. The crimes allegedly occurred from Jan. 5, 2005, to July 2006 in Lawrence.
The indictments, announced by the U.S. Attorney's office Thursday, include one count of conspiracy, 14 counts of wire fraud and four counts of money laundering.
Federal prosecutors say Yellow House, 1904 Mass., owned by Carrie Neighbors, and Yellow House in Topeka, owned by Guy Neighbors, were used to buy power tools, clothing, appliances, electronics and other items. Some of the items were resold on eBay.
The Neighbors allegedly transferred money and checks drawn on their bank accounts to purchase stolen property. On Nov. 7, 2005, Carrie Neighbors allegedly purchased what she thought were stolen items from a man who was an undercover Lawrence police officer, a news release states.
Carrie Neighbors referred a Journal-World reporter to her husband for comment. Guy Neighbors said he didn't know about the indictments, but he denied the charges. He said that he and his wife have been the subject of a federal investigation for two years and that earlier charges were dropped.
"It's a bunch of crap," Neighbors said of the latest charges. "I'll be interested to see what evidence they have."
In June, the couple were charged with one count of possessing firearms while they "were unlawful users of a controlled substance"; one count of conspiracy to manufacture marijuana; and two counts of manufacturing marijuana.
The case is pending in federal court.
Copyright 2018 The Lawrence Journal-World. All rights reserved. This material may not be published, broadcast, rewritten or redistributed. We strive to uphold our values for every story published.