Photo Gallery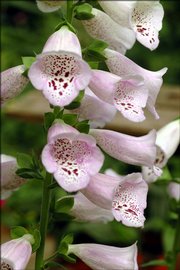 Shade Gardens
I can hear the gardeners congregating now, hand in hand, rejoicing that the dreaded drought and heat wave of August is behind them. It was brutal.
But if you're one of those lucky people with a wooded lot and a plethora of shade, the scorching heat was no big deal. You were cool and relaxed under a canopy of green. The question is: Have you utilized the earth below that canopy?
Personally, I like nothing better than a woodland shade garden, and now that fall planting season is upon us, it seems like a good time to discuss shade plants that perform well in our area. That way, when the dog days of summer arrive next year, more of us will be sitting pretty under a shaded ceiling with gorgeous plants thriving at our feet.
Many people dread a lot of shade in the garden because they think a dazzling display of flowers is out of their reach. But here, with the aid of some Lawrence shade gardeners, are some look-at-me blossoms and foliage that you won't need a magnifying glass to notice. They'll help you beat the heat and embrace your shady retreat.
'Plants of Merit'
Jack Landgrebe, a Douglas County Extension Master Gardener, says a favorite of his is the hosta, otherwise known as "the king of shade perennials."
"These plants are easy to grow and care for," he says. "They have a wide variation of colors, variegation patterns, leaf texture, and even size. They can be used as ground covers or specimen plants."
The University of Missouri Extension and Powell Gardens compiles a "Plants of Merit" list each year. Among the outstanding performers in zones 5 and 6 for at least the past three years is the June hosta. It sports large variegated leaves with gold centers and blue-green margins that form a dense foliage mound that is attractive throughout the growing season. Bell-shaped, lavender flowers appear in summer. The bright foliage really pops in the dark corners of a shade garden.
Another shade-loving favorite of Landgrebe's is the oak-leaf hydrangea, which, he says, "has beautiful and large, conical white blooms by early June and a large oak-shaped leaf that turns reddish in the fall. A great companion is the Panicle hydrangea, which has a similar bloom, but they produce later in the summer when few shrubs are in bloom."
Also on the Plants of Merit list is the climbing hydrangea, which is a vigorous grower with a versatile woody vine. It dons white, lacecap-type flowers in the spring and dark green leaves throughout the summer and fall. Exfoliating reddish brown bark on vines is quite attractive during the winter months as well.
New standouts
Paul Hotvedt's woodland shade garden was featured in "Garden Spot" a few seasons ago. Some of his tried-and-true shade winners are Virginia bluebells, woodland iris and woodland poppy.
"They look so delicate but are actually very resilient perennials," says Hotvedt, of Lawrence.
Coral bells are getting Amy Albright, co-owner of Vinland Valley Nursery, energized this season.
"Heucheras have to be one of the most exciting shade plants since new cultivars started emerging several years ago," she says. "Following the Palace Purple revolution, every shade of purple foliage to almost black began to appear, like Obsidian.
"A fantastic deep-green variety with heavy silver and purple outlines called Green Spice and, most recently, the golden and orange varieties like Amber Waves and Sparkling Burgundy have rounded this group out to be as important as hostas for shade gardening."
She also says every shade gardener should have the native plant wild senna, with its round, pea-like foliage on 4- to 6-inch-tall plants and dark yellow, pea-like blooms in the summer.
"It doesn't wilt, it's not picky about soil type and it adds height to a shade garden," she says.
Albright adds that Virginia sweetspire is a fantastic shade shrubs as well, with both tall and dwarf versions that bloom nonstop in the spring and boast beautiful red twigs during the winter. One last plant of note from Albright is the Daphne Carol Mackie, a variegated broadleaf evergreen that has pink fragrant blooms in the spring, tolerates drought and is a must for a Kansas shade garden.
Dark and delicate
Pam Borchardt, whose shade garden also was featured in the Journal-World a few seasons ago, likes epimedium because it will tolerate dry shade.
"They have small, heart-shaped leaves, and in the spring they have tiny, delicate flowers," she says. "They are tough plants that will grow under Kansas conditions."
Tiarella flower is another good shade-lover, she says.
"It is a colorful groundcover with attractive foliage and fragrant spikes," she says. "Lastly, the various types of Japanese ferns. The silver-gray foliage with the dark purple stems make a nice contrast to blue hostas. The Ghost fern is another favorite of mine with its upright shape."
A fern that was awarded a place on the "Plants of Merit" list is the Christmas fern. The fronds are green at Christmas, and each individual leaflet suggests the shape of a Christmas stocking. This Missouri native evergreen fern forms a distinctive fountain-like clump of leathery, lance-shaped fronds. Clumps typically grow to two feet tall and slowly spread by rhizomes to provide excellent evergreen color for shaded garden areas.
Here's to a great start to selecting plants from the nurseries this fall that will create a wonderful shaded woodland feel. These selections have been tested by local gardeners that dig in canopied lots and by the "Plants of Merit," so they should be fairly foolproof.
If you think ahead now, you can outsmart Mother Nature and beat the heat next summer.
Copyright 2018 The Lawrence Journal-World. All rights reserved. This material may not be published, broadcast, rewritten or redistributed. We strive to uphold our values for every story published.