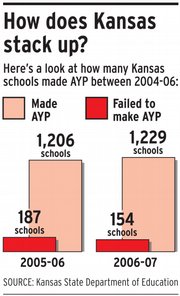 In education, 2014 is the year when no child shall be left behind.
Schools across the nation will be striving to have 100 percent of students meet or exceed grade-level standards for reading and math that year, according to the 2001 federal No Child Left Behind act.
But a recent Kansas University graduate says that it will be extremely difficult for most Kansas high schools to achieve and that he has numbers to support his opinion.
"We have this goal that's always going to go up, and I just wondered whether it was possible, whether it was feasible," said David Hastings, an Olathe South High School drama teacher who recently received a master's degree from the KU School of Education.
Hastings' master's thesis was to project test scores for about 20 Kansas high schools to see how students would do by 2014. He completed his thesis with honors.
"Until you have the data using statistical projection procedures to show that it isn't feasible, we're just talking in our hat," said KU education professor Robert Harrington, Hastings' adviser.
Difficult to achieve
A similar study in Illinois found about 5 percent of its high schools could meet the 100 percent targets. Hastings chose two of the more populous Kansas counties and studied past assessment test results for all high schools there.
He and Harrington did not identify the counties or the high schools because the research is based on projections. They did say that one county has traditionally met "adequate yearly progress," or AYP targets; the other had high schools that missed targets in some areas. The counties also differed in how many economically disadvantaged students they had.
Hastings used the projection method from the Illinois study to calculate test-score improvement among minority subgroups at the Kansas schools. He found that only one high school would improve enough to meet the 100-percent target. That would only happen if the school's scores improved each year at a high level.
For the school to pass AYP, certain subgroups of 30 or more students, such as racial and ethnic groups, those in special education or English-language learners, must also meet the target.
Hastings also used a more conservative model to calculate scores of all students without factoring in subgroups at the schools. He said under a high growth-rate projection all but one of the high schools would make 100 percent proficiency or be eligible to pass under "safe harbor," if a school has enough students improve from the previous year.
Using the Illinois method, none of the high schools would make AYP if their proficiency levels grew at low or medium rates.
"Most schools will be labeled as failing, but the other side of that, if you look at the projected proficiency for those students, the vast majority of students in Kansas will be proficient and, in fact, are proficient right now," Hastings said.
He said his study and others show the 2014 goal is not feasible. Harrington said the way the law is set up unnecessarily creates stress for teachers.
Setting a target
Kansas Education Commissioner Alexa Posny said the 2014 goal does give enough leeway, through safe harbor, to let some schools pass.
"It sets a target, and it sets a target for what we're all trying to achieve," Posny said. "That's to ensure that every child learns and every child is successful. That's the bottom line, and I believe Kansas educators have really held to that premise."
But she said she expected more schools to not meet AYP standards as the proficiency targets will be set higher each year.
Throughout Kansas, 121 schools did not meet AYP targets in 2004-2005, and that number increased to 187 in 2005-2006.
The state released its 2006-2007 statewide results this week, and overall the news was good as fewer schools - 154 - missed the targets, while 1,229 met them.
In Lawrence, the elementary schools and Free State High School met AYP standards, but all four junior high schools and Lawrence High School did not meet the target in at least one area.
Posny also said the increasing assessment goals help identify a small population of students who need the most help.
"The progress that has been achieved in this state, I think, has been pretty phenomenal in terms of reading and math the last five years," she said.
But as Congress considers reauthorization of the law, Hastings said research has shown that changes need to be made.
"I think it would be interesting to look at what a feasible goal for proficiency would be for all children, that all children should be able to accomplish something," he said. "What is a realistic goal?"
Copyright 2018 The Lawrence Journal-World. All rights reserved. This material may not be published, broadcast, rewritten or redistributed. We strive to uphold our values for every story published.