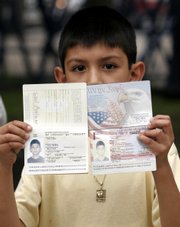 Los Angeles — An 8-year-old boy has become a star attraction at pro-immigration events since his mother took refuge in a Chicago church before she was deported to Mexico.
Now, even some inside the immigration movement are questioning whether Saul Arellano is being exploited.
"It's almost like an act of desperation on our part. Why is it that we need to depend upon a child?" said Armando Navarro, coordinator of the National Alliance for Human Rights, an umbrella organization for Hispanic groups in Southern California.
Saul's mother, Elvira Arellano, was in the U.S. illegally for several years before taking sanctuary at Chicago's Adalberto United Methodist Church, where she lived with her son for a year in defiance of a deportation order.
She left the church last month to speak to other immigrants around the country and was arrested in Los Angeles by immigration authorities. They deported her to Tijuana, Mexico.
Hours after her arrest, Saul was brought to a news conference where supporters denounced her detention. He didn't look into the cameras or even speak, instead hiding behind his godmother.
"I don't want media," he told his mother while visiting her a day later in Tijuana.
Today advocates planned pro-immigrant demonstrations inspired by Saul's mother in communities across the nation. The boy's mother said Saul would be part of a vigil in Washington, D.C., or a rally in Tijuana.
Anti-illegal immigrant groups have long accused Arellano and immigration activists of exploiting Saul in their pursuit of reform. The boy has zigzagged the country for the last year, appearing at rallies, on television programs and at meetings with lawmakers.
Elvira Arellano said Saul always chose to participate in immigration activities, and doing so helped him deal with a difficult family situation.
"The movement isn't taking advantage of him. He is the reason we are fighting," she said in a phone interview from Mexico.
Copyright 2018 The Associated Press. All rights reserved. This material may not be published, broadcast, rewritten or redistributed. We strive to uphold our values for every story published.