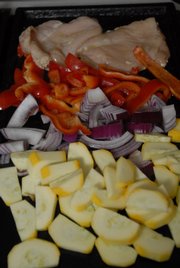 Things are different these days in Peggy and Dwight Hilpman's kitchen.
The Lucky Charms that used to be in the cabinet have been replaced with bran flakes. The Lawrence couple eat more salads. There are actually leftovers occasionally in the fridge - their five children used to eat them up within hours.
And - gasp - they can keep vodka and wine in the freezer.
The gradual transition to empty-nest cooking has been good for the Hilpmans - once they figured out the details.
"We always shopped in terms of bushels of apples, gallons of milk, loaves of bread, chunks of cheese," Peggy Hilpman says. "When we made the transition, we had to eat a lot of sour-milk pancakes. We just didn't need that much food."
It's a change that many families face as their children go off to college or just move out of the house.
'More adventurous'
The Hilpmans' children range in age from 18 to 29. Two still live in Lawrence, so the couple have the occasional barbecue with them.
These days, the pair have to cook smaller amounts and eat more leftovers themselves.
"We probably eat more of certain things than we want to," Dwight Hilpman says, "just to get rid of them."
When all of the children were at home, the family had some restrictions for what they could eat. Everybody had their own tastes, and three of the five children were vegetarians.
Now, Peggy Hilpman says, she's more likely to cook something with, say, goat cheese, than she was before.
"If I see unusual things on a cooking show, we're more likely to experiment," she says. "We're more adventurous."
And if they're busy and aren't in the mood to cook, they just go out. It's easier to make that decision when you don't have to pay for five children, too.
Kitchen resources
Joy Smith has been through the challenges and benefits of cooking
She's the author of "Empty Nest Cookbook: Recipes, Menus and Revelations," and wrote the book after realizing there weren't many resources for couples rediscovering the kitchen for themselves.
"No question, it's a major adjustment," says Smith, who lives in Glastonbury, Conn.
She says couples often open their eyes to new foods.
"You can be more adventuresome when you don't have to cater to teenager tastes," Smith says. "You can put on music and have a glass of wine while you're making dinner. You can also be more indulgent and splurge. Filet mignon or shrimp for two is much less of an investment than for five.
"Cooking for two is also faster than cooking for a crowd. Most of the recipes in the book can be ready in a half-hour or less, so you spend less time standing by the stove."
In addition to Smith's book, at least two other books are available for empty-nest cooks: "Two at the Table: Cooking for Couples Now that the Kids Are Gone," by Cheryl Fall, and "The Complete Idiot's Guide to Cooking for Two," by Ellen Brown.
Meal 'events'
The menu isn't the only thing that changes for empty-nesters around dinner time.
Smith notes that the experience of dinner is different, too.
"When my three daughters were off to college, the house seemed so quiet and empty," she says. "I was still cooking in the same quantities I had when there were five of us at the table."
The Hilpmans agreed that dinnertime can seem a bit lonely.
"I do miss the events our meals used to be, when we'd find out what the kids had been up to," Peggy Hilpman says.
Rick and Vicki Lysen, of Lawrence, recently became empty-nesters when their younger daughter moved out of the house. They're getting used to planning to eat leftovers for multiple days.
"With the kinds of things we make, we get a lot of portions - like with meatloaf," Vicki Lysen says. "We do have leftovers, and we can serve it again. That part of portioning wasn't hard."
She says she and her husband always have eaten healthy, though her younger daughter's fast-food habits occasionally crept into their own lifestyle.
"We eat a lot less junk, period," she says.
The couple even has worked out a schedule for sharing the culinary duties. Rick is in charge of cooking on Tuesday nights.
Vicki Lysen says he often just goes to the deli at the Community Mercantile, 900 Iowa. But that's OK with her.
"Sometimes," she says with a laugh, "that might be preferable to him cooking."
Tex-Mex Taco Salad
1/2 cup prepared salsa
2 tablespoons reduced-fat sour cream
1/2 teaspoon canola oil
1 small onion, chopped
2 cloves garlic, minced
8 ounces lean ground beef or turkey
1 large plum tomato, diced
1/2 cup canned kidney beans, rinsed
1 teaspoon ground cumin
1 teaspoon chili powder
1/8 teaspoon salt, or to taste
2 tablespoons chopped fresh cilantro
4 cups shredded romaine lettuce
1/4 cup shredded sharp cheddar cheese
Combine salsa and sour cream in a large bowl.
Heat oil in a medium nonstick skillet over medium heat. Add onion and garlic and cook, stirring often, until softened, one to two minutes. Add beef (or turkey) and cook, stirring often, until cooked through, three to five minutes.
Add tomato, beans, cumin, chili powder and salt; cook, stirring, until the tomato begins to break down, about two minutes. Remove from the heat, stir in cilantro and 2 tablespoons of the salsa mixture.
Add lettuce to the remaining salsa mixture and toss to coat. Divide the lettuce between two plates, top with the cooked meat and sprinkle with cheese.
Source: www.eatingwell.com
Chicken Cassoulet
1 15-ounce can white beans, rinsed
1 teaspoon extra-virgin olive oil
6 ounces boneless, skinless chicken thighs, trimmed of fat and cut into 1 1/2-inch chunks
1 small onion, chopped
2 cloves garlic, roughly chopped
1/4 cup plus 1 tablespoon water, divided
1/4 teaspoon dried rosemary
1/4 teaspoon dried thyme
1/4 teaspoon freshly ground pepper
1/4 cup dry white wine
1/4 cup reduced-sodium chicken broth
3 ounces low-fat turkey kielbasa, sliced into 1/2-inch pieces
1/4 cup toasted breadcrumbs
Place 1/4 cup beans in a small bowl and mash roughly with the back of a fork or a potato masher. Add the remaining beans to the bowl.
Heat oil in a large skillet over medium heat. Add chicken in a single layer. Cook, turning once, until browned on both sides, two to three minutes per side. Transfer to a plate and cover with foil to keep warm.
Add onion and garlic to the pan. Cook, stirring, until fragrant, about one minute. Add 1 tablespoon water. Cover and cook, stirring occasionally, until the onion is softened and browned, about four minutes. Add rosemary, thyme and pepper. Cook, stirring, until fragrant, about 30 seconds. Add wine; increase heat to high. Cook, stirring with a wooden spoon to scrape up any browned bits, until the wine has reduced by about half, 30 seconds to one minute.
Add broth, the remaining 1/4 cup water, kielbasa, the beans and chicken; bring to a boil. Reduce heat to a simmer, cover and cook until the chicken is cooked through, three to five minutes. Serve topped with toasted breadcrumbs.
Source: www.eatingwell.com
Festive Spicy Pasta with Ham and Olives
4 ounces whole-grain or regular pasta (spaghetti, angel hair, or small shells work well)
2 tablespoons olive oil
1/2 onion, finely chopped
1 tablespoon crushed red pepper, optional
4 ounces cooked ham, cut into small cubes
1 4-ounce can sliced green olives, drained
1 4-ounce can sliced black olives, drained
1 15-ounce can diced tomatoes, undrained
Parmesan cheese, optional, as garnish
In a medium pot, set pasta to boil according to the package directions. When al dente (cooked through but still firm to the bite), drain in a colander. Set aside and keep warm.
Meanwhile, in a medium pan, heat the olive oil over medium heat. Add the onions and crushed red pepper, if using. Saute until the onions are soft and translucent, about five to seven minutes. Add the ham, olives, and tomatoes with their juices. Cook, stirring occasionally, until heated through, about 10 minutes.
Combine the ham mixture with the pasta, and stir gently until well-mixed. Garnish with parmesan cheese, if you like.
Source: www.quickiesforcouples.com
Crispy-Bottomed Salmon with Balsamic Sauce
1 small or medium orange
1/2 cup orange juice
1/4 cup balsamic vinegar
2 tablespoons olive oil
1 tablespoon finely chopped onion
1 teaspoon chopped parsley
1/4 teaspoon salt
1/4 teaspoon pepper
2 6-ounce skinless fillets of salmon, 1 to 1 1/2 inches thick
Salt and pepper to taste
Preheat oven to 450 degrees.
With the fine holes of a cheese grater or with a citrus-zesting tool, grate about 1 tablespoon of the peel from the orange, being careful not to grate any of the white pith. Cut orange into slices and set aside.
In a jar with a tight-fitting lid, combine orange zest, orange juice, vinegar, 1 tablespoon of the olive oil, onion, parsley, salt and pepper. Put lid on and shake vigorously until well-blended. Set aside.
Briefly rinse salmon under cold running water and pat dry with paper towels. Season with salt and pepper to taste.
In a large oven-proof skillet, heat the remaining 1 tablespoon of olive oil over high heat. Place the salmon in the pan, skin-side down (the salmon is skinless, but it should be obvious which side had the skin). Cook for two minutes, without lifting or stirring the fish. You may wish to use a splatter screen, if you have one, because the oil may splatter.
Place the pan with the salmon in the oven and roast for approximately 10 to 12 minutes. Check for doneness by slicing open the thickest part of the fillet. It is cooked through when opaque at the center. The bottom of the salmon should be nice and crispy.
Remove the skillet from the oven, and put fish on a serving plate, covered loosely with aluminum foil to keep warm.
Discard the oil from the skillet, and put it back on the stove over high heat. Pour the orange-balsamic sauce into the hot pan. Cook for about 30 seconds or until it is bubbling. Spoon the sauce over the salmon, garnish with orange slices, and serve. Serves 2.
Source: www.quickiesforcouples.com
Copyright 2018 The Lawrence Journal-World. All rights reserved. This material may not be published, broadcast, rewritten or redistributed. We strive to uphold our values for every story published.