Special Population Program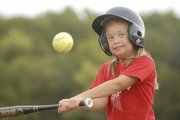 Special Populations
The Lawrence Parks and Recreation Department's special populations program is open to a variety of children, said Annette Deghand, the program's supervisor.
Deghand said that historically, the program - which began in the 1980s - has served many children with developmental disabilities such as Down syndrome or autism. But she said it also has served children with physical disabilities.
Generally the youth league serves children from the ages of 5 to 12 years old, but age guidelines are flexible. For more information, contact Deghand at adeghand@ci.lawrence.ks.us or 832-7920.
It all started with the doctors.
When Kiera Snodgrass was born with Down syndrome 10 years ago this week, the doctors almost immediately began setting the bar low.
"I don't know why they do what they do, but they made it sound like she would never amount to anything," Dennis Snodgrass, Kiera's father, said of the doctors.
Her parents say Kiera - with dark eyes that look kindly even upon strangers, and a seemingly constant "glad-to-see-you smile" - proves them wrong every day of the week.
And on Friday evenings, she proves it on an athletic field. Kiera has been a frequent participant in the Lawrence Parks and Recreation special populations programs. Sometimes it's soccer, sometimes it's baseball, sometimes it's basketball.
But lately, it's been nothing. The last two scheduled youth leagues for the special populations program have been canceled because of a lack of participants.
The cancellations have left Kiera's parents concerned about what opportunities their daughter will have for play in the future. The Snodgrasses believe in integrating Kiera with other children without disabilities, but they said they don't believe it is realistic to put Kiera into normal youth league athletic programs.
"It would be another frustration," said her mother, Denise Snodgrass. "For so many of these kids, everything is extra work. School is extra work. I mean everything is extra work. It is important to have something where they can just go and play and have fun."
Declining numbers
Annette Deghand, special populations supervisor for the city's Parks and Recreation Department, isn't quite sure what has led to the decline. She just knows it has been significant in the past year.
For example, the late summer, youth baseball league was canceled because only five children signed up. The same thing happened earlier in the year with the program's Mystery League, a league where the sport is changed each Friday evening.
The cancellations are concerning to Deghand because she believes they amount to more than just lost games. They're also lost opportunities.
"It is frustrating because our philosophy at Parks and Recreation is to make sure we provide opportunity for all individuals," Deghand said. "It is a passion of mine to make sure that individuals with disabilities get treated just like anyone else."
One explanation, Deghand said, is that many of the former youth league participants have grown up and now participate in the department's adult league special populations program. For example, the adult softball league has 36 participants.
Deghand, though, said she knows there are still significant numbers of younger people with disabilities who can take part in the program but aren't. She said crowds for the special populations nonathletic events - such as summer camps - are still at 20 or more people.
She said some new parents of children with disabilities may not be signing their children up because they're fearful their children will fail in the sport.
"I think they are real apprehensive to sign them up for that first time," Deghand said. "They are visualizing that my child may not understand the concept of running to first base or something like that. They know their child can't succeed without some assistance or flexibility in rules.
"But we do all of that. Sometimes we have volunteers run the bases with kids. And we change plenty of rules, and we make up plenty of rules."
For most parents, Deghand said, the apprehension seems to quickly wash away after they see sights they never thought they would.
"A lot of us take so much for granted," Deghand said. "We think it is not that big of a deal to see a child shoot and make a basket. But there are families out there who have told themselves that they are never going to be able to see that. Then, when they do, it is just priceless."
A mighty swing
A blond ponytail sticks out from underneath the blue batting helmet atop Kiera's 9-year-old head. It is a perfectly pleasant Wednesday afternoon at Wakarusa Valley School. It's a family moment. Kiera is taking pitches from her dad. Her 13-year-old big sister, Nicki, is doing the catching. The backdrop: A nostalgic playground-baseball field with a dirt infield and patches of grass where grass is not supposed to be.
It is a Rockwellian scene. Except Kiera isn't a Rockwellian subject. Her frame is small for her age, her neck is short, and her face has the uniquely shaped eyes and facial features commonly associated with Down syndrome.
Kiera isn't like the other kids. Dennis and Denise will tell you that. They are past that point now. But they know some parents of children with disabilities may not be. They suspect that may be why some new parents aren't signing their children up for the Parks and Recreation league.
The Snodgrasses understand.
"You have to admit your kid isn't typical," Dennis said. "So : "
"It is another time when you have to face that reality," Denise said, picking up where Dennis left off. "Sometimes that gets a little old. When you live with that person, they become normal to you. Then anytime you have to sit down and look at or be faced with the differences, it can be difficult.
"Sometimes it is, 'I just don't want to be part of that world right now.'"
Dennis said he definitely felt that way but now has found the experience of Kiera participating in the program invaluable both for her and him.
"It has made an awful lot possible, and the hardest part was giving it a try," Dennis said.
Back on the field, Kiera is oblivious to it all. She's just a kid. But, oh, what a cut she takes with the bat. She swings the tiny aluminum bat like many other kids - big and wide and free.
"Just missed that one," Dennis says to her as the ball falls to the ground.
Kiera turns to a group of two or three spectators, smiling as big as any child. She enjoys the audience. Earlier in the afternoon, she had proudly told one of the spectators that she was a hitter.
She turns back around. Another ball is on the way. She smacks it hard, leaving the playground ping of aluminum in the air. Before her dad can even get to the ball, she's turned around to the crowd again.
If possible, she's smiling even bigger this time. Maybe, she's smiling in particular at the spectator she had spoken with earlier. The smile says the words that she sometimes has problems speaking: "See, I told you."
Praying for basketball
October is when the Parks and Recreation Department hopes to begin its basketball league for special population children. If it gets canceled, Denise fears it will be a big disappointment for Kiera.
"She wasn't very happy when baseball was canceled," Denise said. "We're just hoping and praying that basketball comes together."
In this crazy town atop the hill, people have prayed for basketball before. But maybe not for reasons quite like this.
"You know, she doesn't perceive herself as being any different than other kids," Denise said. "You can't tell your kid that she is different than the other kids, and that's why she can't play.
"I can't do that anyway. I'm hoping I don't have to tell her that."
Copyright 2018 The Lawrence Journal-World. All rights reserved. This material may not be published, broadcast, rewritten or redistributed. We strive to uphold our values for every story published.