Photo Gallery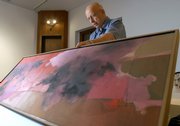 Baker art
On view at Baker University
What: "Celebrating our Visionary History," artwork by current and former Baker University art faculty membersWhen: Tuesday through Oct. 21Where: Holt-Russell Gallery, Baker's Parmenter HallOpening reception: 5 p.m.-7 p.m. Tuesday; an artists' reception featuring a gallery talk by Susan Craig, research librarian at Kansas University and author of "A Biographical Dictionary of Kansas Artists," will be from 2 p.m.-4 p.m. Sunday.
Baldwin City — Walt Bailey stands in the registration and records office at Baker University, looking around the room.
It's a fairly nondescript office - white walls, cubicles, lots of paperwork.
Secretly, he'd like to perform an experiment.
What if he removed the paintings that line the walls and the sculpture that sits atop a shelf?
"If they pull these things down and put posters up, or a bulletin board or something like that, you change the ambiance of the room," Bailey says. "The way to really test it would be to go in in a quiet and informed way and pull these down.
"And then," he adds deviously, "listen to people complain."
Bailey has spent a lot of time recently walking through campus buildings, figuring out what art is hanging on the walls and sitting in nooks and crannies.
He retired from teaching following the spring semester after 42 years on the art department faculty. But Baker President Pat Long asked him to stay on in the newly created position of special assistant to the president for the development of the arts.
After more than four decades on campus, looking at the university's art collection, it's a position for which Bailey was uniquely trained.
"Some of these (pieces)," he says, "I look at as old friends."
Asking questions
Bailey's plans include creating policies for the collection and display of art on the Baker campus.
He estimates the university has amassed about 1,400 pieces of art through the years. Some of the collection came in large chunks, such as the donations from Elsie Allen (wife of Henry Allen, a former Kansas senator and governor) or a Baker student who studied in Europe on a Rhodes scholarship. Others came as individual works from students and alumni.
That's led to an eclectic mix of artwork. Bailey says the varied collection probably doesn't have a specific focus, and much of it is only brought out for study by students.
Since a lot of the art came as unsolicited gifts, Bailey - who himself graduated from Baker in 1962 - has to help answer the question of whether it furthers the teaching mission of Baker, or adds to the aesthetic quality of campus.
"We have to ask the questions: 'Why do we own it?' And, 'If we didn't own it, what would we have instead?'" Bailey says. "We need to have processes and procedures in place. If it's policy-driven, it's not a matter of whoever happens to be there on a particular day."
Art on display
Bailey's charge, according to Long, also is to help start an endowment to support art care and acquisition.
Long also wants to get more art displayed on campus.
"We're getting it out of closets and getting it really shown on campus," she says. "We want to honor our faculty, staff and donors by showing their art pieces around campus. He and I dug around closets and found things around campus."
That also includes three exhibitions this year in the Holt-Russell Gallery, in Baker's Parmenter Hall, that will commemorate the university's 150th anniversary. The first of those, which opens Tuesday, features the works of 25 current and former faculty members. Two more shows - focusing on donated works, and the future of arts education - follow later this academic year.
Collins House, where Baker's president lives, also is becoming more of a space to showcase art.
"(Long) converted the space into a quasi-display area or gallery, so the art gets lived with as opposed to bringing it out for students or exhibitions," Bailey says. "It also says to the person who donated it, 'We do value what you've given us.'"
Walking through the reception hall at the Collins House, Bailey points to a painting above the fireplace.
It was donated by the Baker Class of 1941. Members of the class wanted to donate a painting by Kansas City Regionalist painter Thomas Hart Benton. But when they found out how much that would cost - which was out of their price range - Benton pointed them to one of his students, Earl Bennett. The class bought Bennett's work instead.
Bennett didn't make his career as a painter. Instead, he played drums for Spike Jones' band and was an animator for Hanna-Barbera studios.
Years later, when walking on campus, Bailey came across a man who looked lost. Bailey asked if he could help.
The man said, "Probably not." He explained that he had once sold a painting to Baker University and ...
Bailey stopped him there. He said, "Your name is Earl Bennett, and I know where your painting is."
And then, Bailey took him to see it.
Worthwhile job
Bailey isn't sure how long it will take to create both the inventory of art and policies to collect and protect it.
"The good news," he says, "is I'll never be done with this job. It's dynamic, always changing. It takes the pressure off of me. I'll never be done. I'll work on it until it's time for somebody else to take over."
He's planning to stay for at least the academic year.
Karen Koblitz, a Baker faculty member from 1977 to 1981 and professional sculptor who now lives in southern California, says the university couldn't have a better man in the position.
"Walter has an amazing amount of energy," he says. "He's so knowledgeable, so bright. He is such a great person. I have a big place in my heart for him."
Tom Russell, another former Baker professor who has gained fame as a regional painter, says he realizes the challenge his former colleague faces in going through the collection.
"We were constantly picking up pieces," says Russell, who was at the university from 1963 to 1982. "We had a good collection - we had some 'dogs,' but we had some good pieces. We never had our eye on a certain type of art. We just took pieces as they came or as we could buy them."
Bailey believes as much of Baker's collection as possible should be out in the open. Without a proper museum, that means on random walls and other spaces on campus.
"I think artwork is prepared by artists to be experienced in the world in which we live," he says. "I really think the proper thing is to experience these (works) in our daily lives."
And in his waning years on campus, Bailey says he's glad to have a chance to help the university he cares so much about.
"There are places - places bigger than Baker - that would give their right arm to have this collection," Bailey says. "I'm just fortunate I can phase out my career by doing something of such value."
Copyright 2018 The Lawrence Journal-World. All rights reserved. This material may not be published, broadcast, rewritten or redistributed. We strive to uphold our values for every story published.