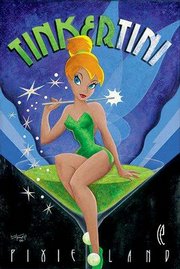 Try perching Mickey or Minnie or one of the Disney princesses seductively on the rim of a martini glass, then calling it a Disney collectible poster.
Forget it. Some things just can't be mixed without looking goofy or profane.
Yet there is one Disney character who pulls it off, in the new Disney poster "Tinkertini" by California artist Mike Kungl: Tinker Bell, the cartoon pixie with the fairy-tale innocence and the Jessica Rabbit figure.
The Walt Disney Co. has rediscovered the old favorite, designed after actress Margaret Kerry and introduced in 1953 to Disney audiences in the animated film Peter Pan. With multiple new lines of T-shirts, toys and other products already out or on their way, Disney is capitalizing on the notion that Tinker Bell's spunky persona, mysterious back story and pinup-girl looks give her an appeal to Disney's usual safe-for-families market - and a little beyond.
Tinker Bell is hot.
"Our guests love Tinker Bell," said Dara Trujillo, manager of merchandise synergy and franchises for Walt Disney theme parks.
Not all is going magically. A new Tinker Bell movie, potentially the first of a series, missed its target release of this year after Pixar Animation Studios merged with Disney last year and officials decided the movie needed to be redone. Now it will be released on DVD late next year, so timing was thrown off for Disney's usual movie/merchandise cross-promotional strategies.
And some Tink fans are unhappy. The new movie, new books and the new DisneyFairies.com Web site do things with Tinker Bell that Disney avoided for more than 50 years: create a personal life and history - and allow her to speak, voiced by actress Brittany Murphy. That has some loyal fans fretting the loss of pixie mystique.
The anti-princess
Tinker Bell has been among Disney's most popular and effective character brands for merchandise almost forever, Trujillo said. But for the past 18 months, as the new lines have rolled out, the Tinker Bell brand always ranked among the five best-selling character-brands. During some seasons, the little pixie outsells everyone but Mickey Mouse and Cinderella.
It's not a supporting role. Disney's consumer products may be the smallest of the company's four business lines (well behind broadcast networks, theme parks and resorts, and movies), yet the division still accounted for $2.2 billion in sales last year.
Disney business observer and commentator John Frost, founder of the independent Web site TheDisneyBlog.com, thinks the Tinker Bell merchandise probably would have come out even without a movie in the works, because of the pixie's obvious popularity. Frost thinks Disney is positioning Tinker Bell and the newly created circle of friends, the Disney Fairies, as an alternative line to the Disney Princesses, which could be tapering off.
Tinker Bell is the anti-princess.
And that's what it says on one of her branded hats, which declares, "So NOT a princess."
DVD and books
On T-shirts Tinker Bell can look mischievous, with the warning, "Mood subject to change without notice;" or taking "good" and "evil" stances, surrounded by skulls and psychedelic designs that Frost said look like "drug culture" images. And Tinker Bell appears on all sorts of products, walking away, peering coquettishly over her shoulder, recalling the famous World War II Betty Grable pin-up pose.
Different versions of Tinker Bell's life story will be presented through the DVD movies, and through a new series of books by Gail Carson Levine, author of the award-winning "Ella Enchanted." So far Levine has produced two: "Fairy Dust and the Quest for the Egg" and "Fairy Haven and the Quest for the Wand."
Tinker Bell has long been important to Disney fans because she was the original symbol of Disneyland, opening the Disneyland (and other) TV shows that Walt Disney used to promote the park, said Kendra Trahan, Winter Garden, Fla.-based national president of the Disney fans' National Fantasy Fan Club. So Tink's fan base is large and loyal. And it's nervous, she said because Tinker Bell may lose allure as she gains a voice and a personal story.
Many women identify with Tink's character, Trahan said, because she's a little bit vain about her looks, a little bit insecure about her body, a little bit good, a little bit evil - and knows it.
"She's the very first (Disney) character," Trahan said, "who is a little bit sexy."
Tinker Bell is sexy?
"I wouldn't use that word," Trujillo said.
After all, this is still Disney.
Thus, the $595 "Tinkertini" poster, while far from risque, left Disney with a dilemma. Artist Kungl was known for illustrations involving martini glasses and shapely women, so Disney officials knew what they were asking for when they commissioned him to create a Tinker Bell work, he said.
His only instructions: Don't make anything too provocative and be true to the character.
"Tinker Bell has an attitude problem to begin with; I thought she would be the perfect one to sit on a martini glass," Kungl said.
'She is so innocent'
Though Disney is selling the poster through the company's Web site and other outlets, officials decided not to display it in Disney World stores.
"It's a collectible. It's obviously not a product targeted to a child," said Nidia Tatalovich, spokeswoman for Disney Consumer Products.
Kerry, who has reveled in the role of the original Tinker Bell model, insists people misunderstand Tinker Bell these days. What some call bad temper or vanity, Kerry chalks up to naivete and the natural insecurities of a young child.
"She is so innocent," Kerry said. "That's what we love about her."
With the delayed movie release, the disrupted cross-promotional opportunity could have been disastrous for some companies, but not Disney, said brand marketing strategist Eli Portnoy.
"The good news for Disney, over most companies, is that's a character with a built-in audience. So they can salvage a merchandising effort, though maybe not at the level it would have been if all the spark plugs had been firing at the same time," Portnoy said.
He loves the edgier, more insolent attitudes that Disney is extracting from its Tinker Bell character. Disney too often manages its images too safely, he said.
"You can't stay safe because you get dull," Portnoy said. "And I think Disney was getting a little dull there for a while."
Copyright 2018 The Lawrence Journal-World. All rights reserved. This material may not be published, broadcast, rewritten or redistributed. We strive to uphold our values for every story published.