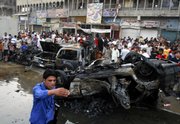 Baghdad — A suicide car bomber detonated his explosives-packed Mercedes near a row of stores in the Shiite militia stronghold of Sadr City on Saturday, killing at least 15 people, police and hospital officials said.
The attack in the eastern Baghdad enclave came as at least 36 other people were killed or found dead in Iraq, including four who died in a bombing of an outdoor market in the Shiite holy city of Kufa.
Violence has been unrelenting in Iraq, and the suicide bombing in Baghdad was among a series of attacks tempering U.S. claims of success in taming the capital just days before a pivotal progress report is due to be delivered to Congress by the top commander in Iraq, Gen. David Petraeus, and U.S. Ambassador Ryan Crocker.
Petraeus acknowledged the difficulties in a letter to U.S. forces on Friday summarizing the results of the troop increase President Bush ordered last winter.
"It has not worked out as we had hoped," he wrote, offering a preview of what he planned to tell Congress in hearings that begin Monday amid a fierce debate over whether Bush should begin withdrawing troops from Iraq.
The British military, meanwhile, said 500 troops would be withdrawn from Iraq in coming months as part of its planned reduction in forces as Iraqis assume control of their own security in southern Iraq. The withdrawals will reduce the British force in Iraq to 5,000, based around Basra, Iraq's second-largest city, 340 miles southeast of Baghdad.
Basra, a predominantly Shiite city, has been largely calm since the British soldiers pulled back from the city center to the airport last Sunday, ceding responsibility to Iraqi security forces.
U.S. commanders have warned that Sunni insurgents would step up attacks ahead of the Petraeus-Crocker report to try to influence the debate. They also appeared to be determined to try to provoke Shiite militia violence, though radical Shiite cleric Muqtada al-Sadr ordered his fighters to stand down for up to six months.
The attacker in Sadr City was believed to be aiming for a busy market but was forced to detonate his explosives early after Iraqi police fired at his car, devastating a barber shop and other nearby stores.
Copyright 2018 The Associated Press. All rights reserved. This material may not be published, broadcast, rewritten or redistributed. We strive to uphold our values for every story published.