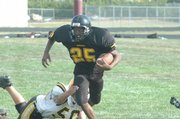 Shawnee Mission West converted two key fourth-down conversions both leading to touchdowns as the visiting Vikings defeated the freshman South Cougars, 22-14, on Thursday at Lawrence High.
The Vikings jumped out to a quick lead as they took the opening drive 55 yards for a touchdown. On that drive, Shawnee Mission West converted the first of its key fourth-downs, this one from the South 12 yard line. One play later the visitors were in the end zone.
"Those were tough," South coach Kyle Stucky said. "But we played with intensity and I like to see that."
The Cougars (0-2) wasted little time getting back in the game as John Pederson returned the ensuing kickoff 65 yards for a touchdown. South made good on the two-point conversion to tie the game, 8-all.
South opened the third with an impressive 80-yard drive that ended with a 21-yard touchdown pass from Chris Gaston to Clarke Cunningham to give the Cougars a 14-8 lead. Although the scoring drive ended on a pass, the heart of the march was on the ground.
"That was a great drive," Stucky said. "Our kids just really put it together there. They just ran and ran, and it paid off."
The Cougar lead would last early into the fourth quarter when the Vikings drove down the field for the go-ahead touchdown. This time the Cougars could not hold the visitors on fourth-and-goal. The touchdown put the Vikings up, 16-14.
South had an opportunity to answer, but a fourth-down pass from Gaston to Cunningham was knocked loose. The Vikings recovered and immediately converted the opportunity into a touchdown, putting the game away.
Despite the loss, the Cougars took some positives from the game, especially considering the drubbing suffered at the hands of Blue Valley only a week before.
"We played so much better than last week," Stucky said. "There was some progress made. But now we need to learn to put teams away when we have the lead and emphasize the two-point conversions. Those end up being huge."
South plays host to Shawnee Mission North on Wednesday at Lawrence High.
Copyright 2018 The Lawrence Journal-World. All rights reserved. This material may not be published, broadcast, rewritten or redistributed. We strive to uphold our values for every story published.