Marty Birrell with Prairie Park Nature Center
Photo Gallery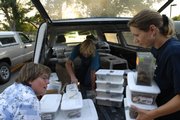 Malnourished animals
The little brown-and-white Rex rabbit in Marty Birrell's hands had lost 40 percent of its body weight. The outline of its backbone was evident through its fur.
"He ate so much last night, but he's sick. I'm not sure he'll live," said Birrell, director of Prairie Park Nature Center, 2730 Harper St.
More than 200 animals rescued from a shuttered pet store in Hays were brought to Lawrence on Wednesday night. Most were reptiles, amphibians, rodents and birds. Ferrets and most of the birds, such as cockatiels, parakeets and finches, were kept at the Lawrence Humane Society, 1805 E. 19th St. Snakes, lizards, tarantulas and rodents were sent to the nature center.
"We don't have the facilities to house reptiles," said Jeaneen Hercha, Humane Society operations manager.
The animals were dehydrated and malnourished when they arrived in Lawrence. Overnight, a crab and a gecko died at the nature center, Birrell said.
The Kansas Animal Health Department removed the animals from Critter Connection in Hays, where inspectors found numerous dead animals, said Debra Duncan, director of the state department's animal facility inspection division.
"The condition was terrible; sanitation was horrible," she said.
Owner Diane Brown agreed to give up the animals and to not operate a store that requires a state license for five years. Brown will be fined $25,000 if she violates the agreement, Duncan said. It is up to prosecutors in Hays whether to file criminal charges, she said.
The state called Midge Grinstead, Lawrence Humane Society director, for help in housing animals that were still alive.
"Midge never tells us 'no,'" Duncan said.
Animals at the humane society will be put up for adoption, Hercha said. Animals at the nature center will find homes at schools, universities, other nature centers or with teachers, Birrell said.
New homes for some reptiles, particularly for some of the pythons, and tarantulas must be carefully selected, Birrell said.
"Some of the tarantulas pack quite a bite," she said.
Copyright 2018 The Lawrence Journal-World. All rights reserved. This material may not be published, broadcast, rewritten or redistributed. We strive to uphold our values for every story published.